College-Seeking Tips
MAG
February 27, 2011
High school is preparation for your future, and the idea that a shortcoming or wrong decision in these years could make a university not accept you, or that you could pick the wrong college, is rather daunting. A Family First Aid survey found that 70 percent of teens admitted to being stressed out over grades and college admission.

The Internet is a good place to begin the overwhelming job of finding the right college for you. Here are four websites I've found particularly helpful to dispel the fog surrounding the process of our individual journeys:

Dictionary.com: The Flashcards section provides online interactive flashcards for the PSAT, SAT, and ACT tests, along with many others.

Collegeboard.com: This site is useful because you can look up the colleges you're considering and see if the courses you're taking in high school match their requirements. It has a feature that allows you to compare statistics for the schools that interest you. And if you click on the Students section and then select the box that says "College Board Tests," you can sign up for The SAT Question of the Day, which is, in fact, an official SAT question sent to your e-mail every day to help you prepare for the big test. As I like to tell my mother, "This test decides whether I will be working at The New York Times or be passing out sandwiches at The New York Times."

U.S. News and World Report: Ranks U.S. colleges based on various criteria including academic excellence and programs offered. You can compare universities and find additional information, including the highly beneficial student reviews, which give insiders a look at the school. You can type in the major you're considering and the site will generate a list of colleges that offer that major. This prevents you from wasting time looking at schools that will ultimately not be right for you. The site allows you to view schools by cost, which helps you stick to your price range.

StudentsReview.com: These college reviews are incredibly useful because instead of getting the sales pitch on a school's official website, you hear the truth about the unavoidable negative factors of each school.

I hope you find these tips useful on your journey to college, but as Will Rogers once said, "Even if you're on the right track, you'll get run over if you just sit there." So go out and explore the possibilities for yourself!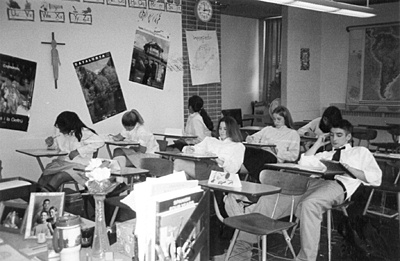 © Fox V., Whitesboro, VT