Interview Narrative
December 25, 2014
     She can talk the talk, she can walk the walk, but this red-headed girl is not Ariana Grande. As a future 2015 graduate, I decided to interview my cousin, xxxx, a now dedicated student at Pierce College. xxxx,  21 year-old, is a program leader at Pacoima Middle School who enjoys working with children, however xxxx was once not as responsible as she wanted to be. In fact, her own students would call her a lazy slacker, especially when she was studying for a test during their own time. However, xxxx says that once she entered college, her schedule, studies, job, and social life forced all the laziness out of her.
     When she got out of high school, xxxx thought she had all the time in the world however she still wanted a pursue a career so that she could have, what she thought would be, an easy life. As she entered college, xxxx chose to focus on child development/early education. When asked why she chose this field, she stated, "I chose this field because I enjoy working with children to have developmental appropriate care givers from a very early age in order to grow up as confident, creative, successful adults." To elaborate even more, she reluctanlty said, "Look, our world really needs a change as as cliches as it soinds, our children are our future."
     Furthermore, we later beganto discuss her college experiences, including the obstacles that were constantly getting in her way. As our conversation progressed, I noticed that xxxx constantly complained about having to juggle work, school, and personal life. However, she also praised education, saying that knowledge is worth all the time in the world. In fact, she said that college has increased her knowledge saying that, " College...has expanded my mind in every aspect. It has also made me realize that the United States has the worst education system...other countires pay you to attend school...in no way does it help the cycle of poverty or thr economy." Although she didn't say so directly, it was clear to me that xxxx had really matured. Through her new perspective, xxx was able to see the world both as a teen and adult.
     As we continued to talk, she also applauded Pierce, saying that she loved their child development program. She praised them saying, "I love their child development program, they follow the same philosophy in which I believe in: which is learning through play." On the other hand, she said she hates paying for parking aand books, once again complaining that the United States should reinforce education, not punish you by charging fees. Even so, she still honored her beloved school, but overtime she began to demote herself saying that she was studying last minute for her humanities class. Even so she sys that it's her fault, she says that part of growing is aapting to the world.
     xxxx then told me about the time where she had to stand up for herself. "I remember one time when I was taking a sociology course, and I'd always turn in his papers. One time, the professor assigned us to do groups to do a project and honestly, he couldn't have assigned me a lazier group. Everyone in my group was one of those people in the back of the room who never did anything. I set up a date but none of them came so I just did it by myself and got a D. The project was worth a lot and it pulled my grade down all the way to a D+. I told the teacher that I didn't think it was fair because I did all my work and my groupdid nothing and he saidd that if I didn't think he was fair, then I should just leave, so I did," she said, "and I don't think anyone had ever stood up to him like I did because at the end of the semester he actually passed me with a C."
     Overall, xxxx's experience has shown me that the world is cruel and it has made me realize that not everything will go as you want it. It has made me realize that planning for the future is like driving in fog, you really don't know what's up ahead. However it has also made me realize that the way you deal with obstacles, is the way that decides whether you succeed in life or not, because "part of growing up is adapting to the world."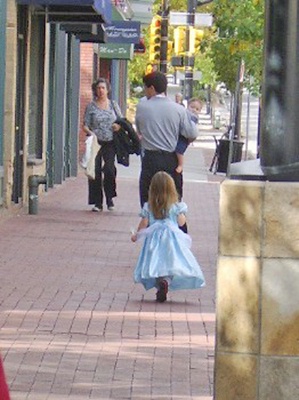 © Kristen T., Tulsa, OK