Journalism and Global Responsibility
May 3, 2009
The town I grew up in, ironically called the "Circle City" for it's shape, is a merciless cycle of "distinguished" schools, one-day sales, and people who look to Saturday Night Live for political insight. The same people hire illegal immigrants to mow their lawns despite supporting deportation of undocumented aliens. I got used to it. Mundane procedure. The rise, the fall. The wane, the wax.
It's our soccer moms that elected and reelected Bush. House Representative Ken Calvert ranks as one of the most corrupt politicians in Congress, yet the 44th district reelects him shamelessly. Here, we "support our troops," as evidenced by the bumper stickers on our SUVs, and oh if I failed to mention, our city's only prized attribute has been destroyed to construct more houses. "Corona: Famous Oranges." Before I continue, let me introduce myself.
I can usually be found with my head in a book, the school newspaper is my life, and yes, I spend Fridays completing required reading and Saturdays meeting with my study group. With the flick and whip of the chain, that's all there is to hold on to.
Throughout my life, my Palestinian heritage has played an outstanding role in shaping my character and continues to expose me to myriad world views. Above all, it is the epicenter to my inspiration as an activist. The Palestinian-Israeli conflict, both convoluted sides of it, initially influenced me to pursue journalism, stress the importance of objective reporting, and raise awareness of the ills that society often chooses to ignore.
Never hesitant to defend a worthy cause, I commit to my responsibility as an American and a Christian. My work on the editorial staff of my school newspaper, The Shark Attack, allows me to expand my knowledge of writing and reporting while fully taking advantage of my first amendment rights. With the power to reach "the masses," my student body of nearly 5,000, I produce both editorials and hard news. My most recent column was a satire criticizing the political identity of my hometown and the reelection of Rep. Ken Calvert.
Regarding the recent attacks in Gaza, I took the side of humanitarianism. I shed light on the massacre in the staff editorial, projecting that our position was strictly in favor of peace and justice. I also constructed the centerfold: one part, a spread of pictures of the bloodshed and a brief history of the historical violence, one part my reporting and photos of the local protests it aroused.
My work has additionally opened my eyes to other crises worldwide, from the child soldiers of Darfur to the crumbling, poverty-stricken villages of rural Nicaragua. Journalism is the shining beacon of light that leads me out of the darkness of ignorance. It is not just my goal, but my calling to ensure that through my writing and determination the world's ailments are addressed.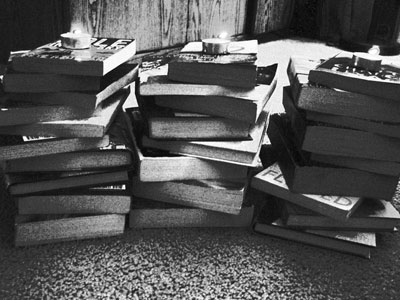 © Alexis R., Clarkdale, AZ