The Bean
December 17, 2009
I remember being seven years old and traveling to Chicago by train to visit the Bean. I do not know if my own family knew why I was so entranced by that thing, but the warped images it spat out entertained me upon multiple occasions for an embarrassingly long amount of time. I liked being unusually stubby, or wider than I was tall, but above all I liked the fact that my perspective had changed. I remember I cried when I had to leave the Bean, walk back to the Loop, and get on a train home.

Now I'm sixteen years old and I live in the suburban haven of Santa Rosa, California. Things have changed significantly in my life, but I still value what I valued as a child – the opportunity to view my existence from different perspectives. When I got my first letter from the University of Chicago, I was skeptical about even opening it, because frankly Chicago is a bit close to my crazy Midwestern family. I opened it anyway, unsure of what I might find. When I did, I read about a society of intellectuals and a place where people learned how to think, not what to think. In what felt like a montage of ill-fitting liberal arts schools and imposingly prestigious universities, UoC sounded like how I wanted to be taught, and it sounded like how I wanted to live. After reading Han Vermeulin's "The History of Anthropology in the Netherlands" twice from the UoC website, and considering emailing Alexandra Harnett about her graduate dissertation on vice in Post-Midevil Ireland, I decided that Chicago was the educational equivalent of the Bean, and, regardless of proximity to anything, was definitely the place for me. It would provide me with the kind of learning I would want, in the kind of community that I desire; the transitive property (which I decided in Ninth Grade Honors Geometry should apply to the entirety of existence, not just mathematical proofs) proves that these two experiences would also give me the future I would want.
I suppose one could conclude that the idea of the Bean stayed with me for a decade that included arguably more significant events – my father's physical and emotional abuse, my escape from his control, my 50 pound weight loss, the drama-ridden ins and outs of being a high school student – but regardless, the Bean endured. I believe this happened because I retain what it represents; change, flexibility, growth, devotion and ultimately childlike wonder in the discovery and cultivation of all of these things. (I think I internalized beyond the artist's expectations.) Needless to say, UoC epitomizes my Bean experience, and I believe that I belong back in the Windy City.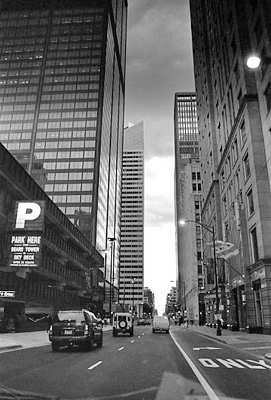 © Alexandra K., Chicago, IL