17 Years
MAG
Seventeen years, two eyes, one heart, one brain. A kaleidoscopic of cars whizzes by me as I waltz from my bus stop in downtown Los Angeles to my home, a government-funded apartment complex. Seventeen years, two eyes, one heart, one brain.

Seventeen years to slay apathy, stockpile verbal ammunition, doubt the status quo, and delay death through learning and living. Seventeen years, and all it takes is just one traitorous second for everything to disappear. As I linger on the curb, shifting my weight while balancing my AP textbooks, I worry about how easy it would be to enter "the undiscovered country" where "no traveler returns." I worry about the insights I'll never pocket, the pains I'll never retain. Two eyes, one heart, one brain.

Two eyes to judge. A black Honda swerves harshly, hissing at my mortality as it rounds the corner and barely misses my defenseless flesh. Startled, I stumble. Miscalculating my threshold for shock, I fall to the ground. My textbooks tango in descent as my backpack bemoans momentum's pull. Impassive, the light changes. I pluck my books from the ground and cradle them in my arms before darting across the street. A homeless person who has witnessed my misfortune smiles and I smile back. Head held high and shoulders back, I hope my confident saunter is not nearly as comedic as I sense it is.

One heart to feel. Paranoia pricks my skin darkened with years of outdoor basketball practice and running jaunts as I reflect on how young, female and distinctively pedestrian I am. Only dejected homeless people and doleful carless souls negotiate these paths, where one would be hard-pressed to find even the bravest of joggers. I routinely zigzag home alone since my mom works long hours as a seamstress and my dad works on-again, off-again at a factory.

First, I cross the bridge overlooking the 101 Freeway. The second source of paranoia is the overpass I must walk under, embracing obscurity as I pray for light. Needless to say, I usually jog these steps. Third, is the gradual sloping upward of an unpaved sidewalk. In my seven years of walking home, I have seldom seen other pedestrians walking beside or in front of me, but with the California sky peering at me from behind folded arms, I am comforted in knowing I am not alone.

One brain to feed. With the relief of passing each perceived danger, I scurry along. Assuming the lighthearted aura of Little Red Riding Hood, the tenacity of The Little Engine That Could, and the optimism of Dr. Seuss, I take a detour to my beloved library. There, I bask in the tranquil familiarity of books, knowledge, words and wisdom. Seventeen years, two eyes, one heart, one brain, one life.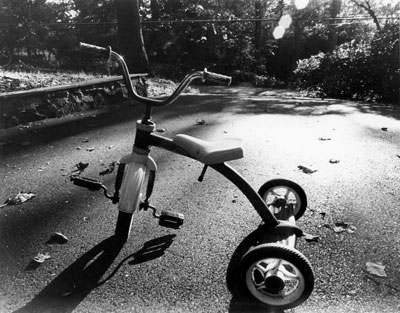 © Anonymous