Journeys
MAG
Life is a journey. We travel, meet new people, and experience many things. Each day adds a unique segment to our journey and brings us closer to our final destination. Whether we know where we're going or not, we are all working to get somewhere. At times, though, we become so focused on the destination that nothing else seems to matter. Our minds lock on the future and we just can't wait to get that grade, make it to the weekend or go off to college. One of my biggest mistakes was living only for the future and not the present. A journey is not just a beginning and an end, it's the many stops we make in between.

I've always known that you're supposed to live each day to its fullest, but for the longest time, I didn't know how or why. Sometime within the past year, it became clear that my approach to life was wrong. Last summer was packed full of excitement with trips to Colorado, Canada and Niagara Falls, plus camp in Indiana. Those were by far some of the most enjoyable weeks of my life. I was on a such a high from going new places and seeing new things and I never wanted that feeling to end. Every place I went, I had amazing experiences, met wonderful people and created priceless memories. I felt pumped and carefree, it had to end.

The start of school brought summer to a close, and all those joys drifted off to the horizon. I was consumed by the monotonous daily routine and went through my activities like I was a robot: school, practice, homework, sleep, repeat.

The weeks dragged as I counted the days until Thanksgiving, then Christmas, then Easter. Somewhere along the line it dawned on me that this was no way to live: life is much too short to spend every day wishing it were another day. Then, I remembered something I'd heard at camp: "Don't go through life on auto-pilot; take that camp high home with you, seize some opportunities, and make a difference." I don't have to be traveling the world to have a good time, I can enjoy life wherever I am if that's what I decide to do.

I realized that I don't want to look back on life and wonder what I did all those years. I want to create memories, form relationships and live my life to its fullest - every day. Life isn't all about achieving goals and living up to expectations. We must find time to do what makes us happy because that's what makes our journeys easier to travel.

We must face each day with a positive outlook, and accept challenges knowing that they may take us down an even better road than the one we're on. I can't wait to see what adventures are in my future, but in the meantime I love spending each day with the people I care about and doing all that I can to make it a memorable part of my life's journey. Sometimes we can't control where we go, but we can decide how to live and how to approach that next fork.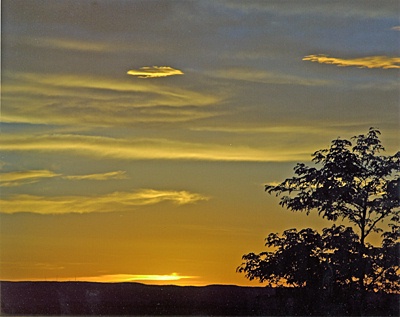 © Anonymous