Harpers Ferry
MAG
Gulp. I looked down the winding trail ahead of me and swallowed again. Two hundred and eighty miles ahead was my destination: home. I waved good-bye to my father (who had graciously driven Joe and me to Washington, D.C.), hopped on my camping gear-laden bike, and began pedaling.

As we passed through Georgetown and then the outskirts of Washington, I watched civilization fade as city streets became dirt paths and shopping centers became country shops. We were following the old C&O canal path "back in history" as we watched the canal become less and less modern. Joe and I had begun our adventure of exploring early America on our first big bike trip: Washington, D.C. to Pittsburgh in six days, just the two of us, with everything we needed packed on our bikes.

As in any good story, someone upstairs decided it would be funny to dump a thunderstorm on us one hour into the trip, but the fun didn't end there. Thirty miles later, we reached the first campsite and stretched our tired legs. I hit a mosquito on my neck and in an act of rage for their fallen friend, a swarm appeared, engulfing us in a cloud of blood-sucking fun. Scrambling for our insect-repellent (Off! Deep Woods is good stuff), we found temporary relief from the onslaught. Encouraging each other with the thought that things couldn't get worse, we set up our tents and retired for the night. I found out later that a heat wave had decided to strike that week, with the humidity hovering around 95%. I have a sleeping bag good to -20 degrees Fahrenheit. I was hot.

On the worst night, we camped outside Cumberland, adjacent to an active train yard, across the river from an industrial irrigation center, and underneath an apparently popular flight path. As the days wore on, the camping gear felt heavier and heavier, and the canned tuna I thought I could eat for six days became less appetizing.

But was I miserable? Although I cannot speak for Joe, I welcomed - and actually enjoyed - the challenge. Testing myself physically and mentally, I got to see what I could endure and overcome. Over the six days, we pedaled our way across the Blue Ridge of the Appalachian Mountains and through the Laurel Highlands toward home.

In many essays, this next paragraph would be dedicated to proclaiming how the writer, upon arriving home, appreciated the luxuries of home: TV, a good bed, air-conditioning, etc. I didn't gain an appreciation for the luxuries, but rather for the hardships people in the past had to endure. I already knew how nice air-conditioning is. On this trip, I had the rare opportunity, even before taking American History, to travel the long path Abraham Lincoln took to Antietam to view the aftermath of the bloodiest battle of the Civil War. I had the chance to live the life of a canal-boat operator: sleeping in the wilderness, enduring heat and long stretches of nothingness. I know nothing more delightful than immersing myself in a learning experience.

Seeing the human ingenuity needed to engineer a path through mountains, make aqueduct "bridges for boats," and direct the flow of the mighty Potomac River, I felt as if I were inside a textbook and seeing for myself the obstacles people overcame to build our country.

Months later, I find myself lying on my bed buried in an American History textbook. The words tell the story, but when I close my eyes, I can take myself back to Harpers Ferry, stand on the steps of Miller's General Store, and watch as John Brown conducts his raid.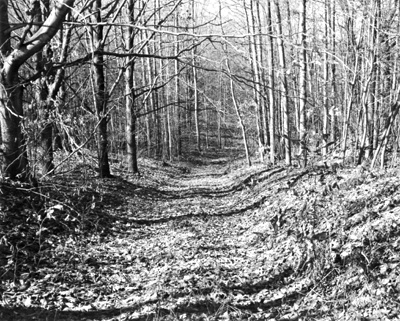 © Anonymous