Place of Contentment
November 6, 2013
A Safe Haven lingers in the outskirts of the digital world, and makes me feel whole. Tumblr.com is more than a blogging site. It's the original chameleon of the Internet being anything you ever wanted, and so much more. A blank canvas for your imagination and a friend to hold your hand when all you want to do is cry. The power of youth intertwines in cyber fibers and creates the genius that is Tumblr. This website attends to all emotions and senses by captivating one into seeing the beauty of life, through every type of creative mind on the planet. It is an underground safety net to express and vent where no one will find you, unless you allow yourself to be found.

Tumblr can also be a place to share your offerings to the world of newborn foals, chewing at the bit with a burning desire in their hearts to make an impact. This site is wonderful in the way that it gives people a chance to have a voice that they are rarely given otherwise. Throughout my time using Tumblr, I have been able to form opinions about politics, and learn about critical issues in the world I was never informed about before. I have learned the most outlandish potpourri of facts as well. For instance, Jared Padalecki is obsessed with Where's Waldo books, Nutella jars are made as big as a human torso for 40 dollars at Costco, and the Barbie Brand might be going in the right direction of supporting body peace by finally creating an athletic build doll.

Tumblr allows you to share your true self and it's my personal space to just be, and I am forever grateful to have had the area of serenity for my years throughout high school. I believe that even though most of my followers do not know my actual name, and know nothing about my life in the physical world, they know me better than any of my friends in school. My followers see my triumphs as well as my failures, all through the pictures I reblog, and the text entries I write.

It is said that you become the company that you keep, so what happens when you are constantly surrounded by minds filled with dreams and inspiration, people who hold infinite paintbrushes with color palettes never seen before? A limitless line of brilliance is formed, molded by the minds that shape each other indefinitely. I believe in the future generation, and the glorious potential of our world. Tumblr simply fuels that fire by providing witty comments laced with laughs and chuckles, innovative yet insightful photographs, and opinionated writing pieces created by the random introverted girl in someone's physics class. Tumblr gives me hope for the bright tomorrows that reach beyond the rolling hills of my current existence, and in turn gives me complete tranquility.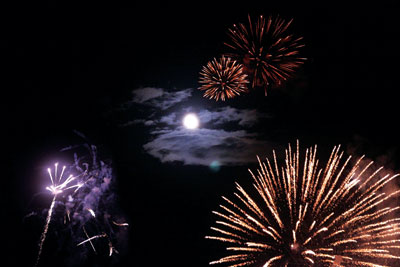 © Meena K., Groton, MA