Positivity
October 28, 2014
Last summer I packed my things into boxes and drove away. I left behind a loving group of people in the name of making happiness my priority. Living in the desert felt like dying. My whole being had been so incredibly weighed down by the toxic energy that I was surrounded by, the anger people unconsciously held in their bodies. I knew that it was time for me to make a change. I had to leave behind the intolerance and conservatism of the desert and welcome an environment of acceptance and love into my heart. It took three days to drive from Mesa, Arizona to Seattle, Washington. The pilgrimage was an exercise in releasing years of hurt and resentment.
Finally, I reached the promise land. My mother and I had made it out. Our tiny, studio apartment could have been my castle. The longer I spent in my new city, the more my spirits rose and the more I grew excited in knowing that there were beautiful places all over the world just waiting for me to build the courage to get out and see them. I was overcome by an overwhelming sense of positivity. I threw myself into creating. I began writing my first novel. I interviewed for and got an internship with Broadway Bound Children's Theatre. I finally felt that I was heading in the right direction. I became interested in the idea of public image. I felt that in social media I held a great ability to influence people, to gift them a piece of the positivity that I was reveling in. I became more aware of my interactions with people offline. It became important to me that every interaction I had should carry the message of positivity.
I found myself with a new appreciation for the relationships I had with people, the blessings that I had been given, and my profound ability to experience life. Positivity for me didn't mean a lack of hardship or sadness but rather the ability to let myself feel them and persevere. Positivity was rejecting hate, bigotry, and aggression. Positivity was deeply enrooted in an enthusiasm for life and all it held. I let go of toxic people. I did my best to avoid toxic feelings. I learned that it took more strength to love than it took to judge and hate.
My summer came to an end and now my head faces towards the future. I feel lucky to know my priorities. My future will involve happiness, influencing others, creating, and traveling. In the face of so many variables, those are the things that I will never compromise on. I know that there a lot of important decisions that I will face in the next few months and that is scary but ultimately I trust myself to make a decision that will be good for me. Recently I've learned that, no matter what, I'll be ok and that is a really comforting thought.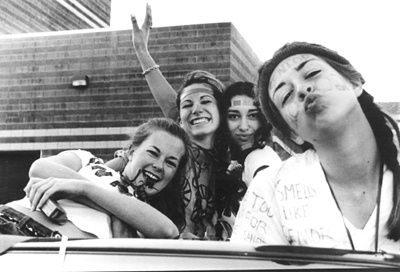 © Sara B., Marblehead, MA