Living in Color
December 10, 2014
Our lives are like strands of yarn. Some longer, some shorter, some tangled and twisted, some straight and true. All of them woven together in the messy, beautiful, tapestry that is life.

My thread starts on November 20th, 1997. As we follow my string through the next few years, colors begin to appear: The sharp green of long, wild grass, the red and yellow of a freshly-picked apple, the deep, black-blue of the Columbia River.  It becomes coated in the substances of mud puddles, filleted fish, and scraped knees, and entwined by the strands of my four brothers.
From age five on, you can see the obvious influence of other lives overlapping my own. The bright orange from my childhood buddy, Joey, the color of his backpack and baseball cap. The warm blue from my best friend Sophie, calm and quiet like her character but still bubbly and sweet like her laugh. The kind, deep red from my first art teacher. The bored but patient grays of math and science teachers telling me to try one more time. A wild cacophony of paint-splattered colors thrown in when I started as a T.A. for the Kindergarten art class at age eight.
The colors continued to change as the years passed, brightening especially whenever I was called to tutor a fellow student, act in the school play, or speak in church. Although, upon hitting middle school, the colors began to fade, reaching a dull gray as I slogged through a year of high school, feeling unchallenged by what my homeschooling mother and co-op teachers could offer. Then, with a blast, the colors changed.
At age fifteen, I started attending my local community college through their Running Start program. My faded strand of yarn was suddenly overwhelmed by the colors of new people, places, and experiences. The bright green of a Spanish professor who spoke fourteen languages. The quirky orange of a brilliant math professor who started teaching Calculus at age nineteen. The neon, migraine-inducing purple of late-night anxiety. People often tell me that starting college at fifteen must have killed me. But, honestly? I've never felt more alive.
Of all the new colors that invaded my strand of life after starting college, the one that was most consistent and demanding was the reddish-orange of uncertainty. I had absolutely no idea what I wanted to do with my life when I started college. My investigations of majors, universities, and careers had only resulted in the dark gray of frustration. There were too many choices! With all the colors in my life, how could I choose just one to pursue? Trying to narrow it down, I decided to make a list of things I knew for sure:
I knew I didn't like math or science. I knew I did like art, music, and english. But, more than anything, I knew I loved people. Looking back at my thread of life, I cherished the bright red pride from having my writing published or winning art competitions. I treasured the nervous light blue of playing piano every Sunday with the worship team. But the colors from things all faded in comparison to the colors left from people.

The brightest colors  in my life come from when I'm leading Youth Group at my church, working as a tour guide at our local museum, spending time catching up with old friends, tutoring other students at the college, or serving as a translator for the Spanish-speakers in our orchard. I love getting to know each person I meet, discovering their true colors and letting them merge with mine. I'm still not sure what my future holds, but I do know this: Whatever I may be, I hope it is colorful.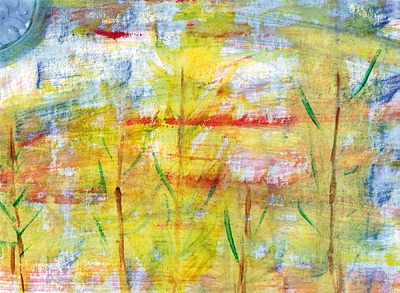 © Raymond G., Phoenix, AZ