The Checkered Board
January 29, 2015
A checkered board with alternate pattern of black and white lay flat on a mahogany table. There it was. It offered nothing special. But to me it was a memory. Only seeing it could make my scar turn into a nostalgic vision of him, of Paps.
My grandfather, I called Paps, brought the chessboard for us to play during weekends. He said it could help my thinking process become sharp and shrewd. Luckily, I found the game nice.
At first, I wasn't able to absorb the routines of playing chess. But with constant practice with my grandfather, I gradually learned the ropes especially the techniques and strategies to win the game. However, Paps always remained as the champion.
As time dropped by, my relationship with Paps became something like of the chess pieces. He sacrificed his rest periods just to teach me the game. He sacrificed his time just to bond with me. I believed he did it because my parents were always not at home because of their work. Paps was really a chess master.
On the other hand, I learned life lessons from him and the game. I boned up the value of focus to the things I prioritized. I learned not only offense or of how to attack the problems that might come on my way but also defense. I learned also the value of sacrifice as well.
On the beginning of October last year, Paps' health began to deteriorate. In his diagnosis, he acquired pneumonia and some complications in his lungs. Hearing those words, it pierced my heart deeply. It left a painful wound. What was good to hear was he took his medication.
In January, I thought everything was alright, that Paps was okay. But I was mistaken. I overheard from a telephone call in the house that Paps passed away a minute ago. That was another pierce in my heart. The wound before I thought that turned into a scar became fresh again.
Three months after his burial, the pain in my heart subsided. It turned again into a scar. However, the game I used to know was something like a stranger to me. I hated seeing it. I loathed playing it.
I told Mom to hide the chessboard in the old cabinet in the basement. After she did so, I thought the house would become normal again. But I felt something was missing. Something was lost, lost in the corner of my mind. I knew it wasn't the chessboard because it was a piece of memory. I couldn't figure it out not until I stepped out of our house and the rays of the sun struck my eyes.
I forgot the lesson Paps had let me understood, that is to focus on what's my life today.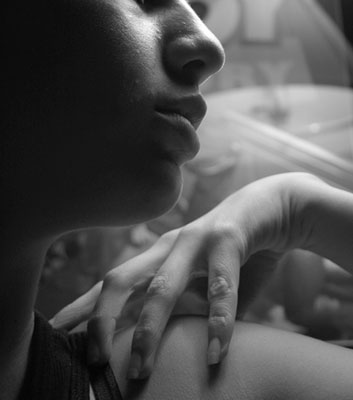 © Rebecca B., Santa Clara, CA