Terror at 10,000 feet
May 10, 2009
"I do," that's what she said after the priest asked her that important and breathless question

"Do you Christina take Robert has your beloved husband," that's when the congratulations and pictures started, and also the party. Robert seemed happy through the wedding he was satisfied of the wedding, Christina's dress and the most important thing was going to spend the rest of his life with her, the women he loved, but Christina seem just upset not for getting married, but for who knows what. Their kids were happy; especially the middle one, for having a new a fun stepfather, but one of Christina's sons was missing. He didn't seem to have gotten an airplane ticket and didn't make it to the party since he had his own problems of a new born baby coming on the way.


That was a very busy summer for this family or better said the daughter, Isabel, which had a new stepfather, new home, a new little brother and moving into a new country with a totally different language. Also seeing her mom after seven was a completely new and crazy thing since both were lower temper and patient, plus the both though in two different ways. Isabel's crazy modern way, and Christina's old fashion thinking.

Coming back to the party which was a really special day to Christina's family, since the wedding was taken place in a crazy, hot, and humid place call Guayaquil, Ecuador. Robert was happy that he finally got married but all he kept repeating was, "I don't know how to dance, but I'm only dancing the waltz and that's it. I just need a beer and you guys can dance," he said it laughing. The party went on and on, it took place in this big, fancy and modern hotel which the salon reception came with the room. Supposedly for the bride and groom, but it ended up being for all the kids that were tired. In the party, family and friends were dancing and celebrating, it was 1 am in the morning when the DJ declared it was 70's dance party and that's when Isabel's uncle-in-law went crazy and started dancing like Michael Jackson! Then it was suddenly him in the floor with his pants broken down the middle.

"I guess somebody needs to lay off of the soda and potato chips," Christina said laughing at the event, and everybody kept dancing until three in the morning.


The party was over and that special day was finally over, even though Isabel missed half of it, by being so tired of waking up so early to get her hair done, that she fell asleep on the bed. When she was supposed to be babysitting and making sure the kids would not get out of the room or if they wake up she'll be right there to help them out. She kind of fell asleep. The kids got out and she was in big trouble with their parents, but Robert thought it was pretty funny so she didn't get grounded and by the way he said laughing, "This is a party celebrating us coming together as a family, so forget about it have a blast and don't let your mistakes turn you down."

• • • • • • •


It has pass five days since the wedding day. It was time for Isabel to move to a new home with a weather change from time to time. It was also time to get in the airplane, must of the family was there from her aunts, to her uncles, and even some of her cousins others couldn't come since it was a school day. Most of them were crying since they were not going to see their little straight A's niece. Valeria, Isabel's favorite aunt said sadly," Please call or write me but don't forget about us, I'm going to miss you my little niece." "Yes tia, which means aunt, I'm going to call you when I get there, but how can I forget about you guys." Isabel replied crying without giving a clue of going to stop. The airplane started to rise. Isabel's heartbeat increased every second like an over weight man running for the first time. She immediately fell asleep to forget about her fear of heights.


"Hey, captain I don't hear one of the engines," Robert said. The captain immediately reacted and announced to the rest of people that one of the engines was not working. People started freaking out since they had been thirty minutes of been in the air in the airplane.

"Ladies and gentlemen I know you are very worry of having a bad landing, but leading you know that we have been flying for thirty minutes and we are flying over Quito which it does not have a good landing spot, so we might have to turn around and go back to where we departed. I'm so sorry for all this but that's the only option we have, and again our airline is really sorry. We will let you know when we are about to land," Captain admitted. Christina grabbed Isabel's hand, she started praying and thanking god for everything she has. Isabel finally woke up, she found out what was happening but it seem like she didn't care, all she care was going back to sleep.


"I'm a retire marine, and I know I'm supposed to be calm but I ain't got a pair shoot on me while knowing the engine is off, at least I can died with a cold beer in my hand and my family besides me." Robert complained. Finally the captain demanded, "Ladies and gentleman would you please adjust your seat belts we are about to land but their might be some air turbulence. Please do not scream or freak out it might distract me from doing my job!" "Well you should have had done your job in the first place." Robert barked.


Isabel woke up during worst moment possible, right before the landing. The airplane started shaking Isabel could not take it and started crying, then they landed but the landing went the wrong way and the airplane broke in three pieces. Christina yelled, "Are you guys ok? Christina you'll be ok just stay with me baby, will get help soon."


The help came. Rescuers were going in and out to rescue people, Robert was just fond with a broken leg, he said "Where is my wife and kids, I need to know if they are fine."

"Your wife is fine. Your little boy is fine too, but your daughter is in a fragile condition. It looks like she was protecting your wife which is why she had a few scratches," the nurse replied.


The most exciting day for Isabel became her nightmare. It was her first and last time on an airplane. Next day after the accident her family got the news that their only daughter was dead. All their happiness was now in the past.

This accident only left a painful and sad story. Which led to a message that Isabel always used to say "Live your day like there is no tomorrow, or live your day like if it was your last." They would always remember her funniness, her perky smile, and her great imagination.

At the day of her memorial Christina said, "Rest in peace my beloved daughter which I'll always love you, and I'm sorry we didn't get to spend that much time together. Also that you didn't even made it to your quinceaňera, sweet 15 that is when you live your childhood behind and become a women. I'm sorry for ever thing sweetie, rest in peace, and I'll see you there when the time comes."

Always remember live and laugh like there is no tomorrow, because you'll never know what can happen in a close of an eye!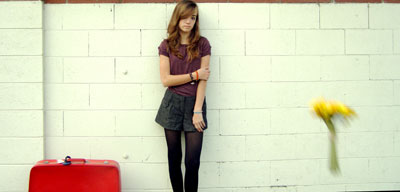 © Austin K., Studio City, CA