the killer monkey
October 9, 2009
"Okay donkey Kong just eat this banana and see what happens" said Joe to Jake. Then all the sudden donkey Kong got crazy and broke out of his cage and attacked Joe and Jake he sucked the blood out of them and ate their guts.

"Okay class remember to bring your lunches for our field trip tomorrow" said Mrs. Apple

"Okay" every one said. So the next day every one got on bus "This is going to be cool" angel said

"I know its going to be the best" Jordan replied

"I'm sleepy" Eduardo said! 2 hours later they got to the old factory "this is scary" Diana said

"Aw I broke a nail that's not cool" Claudia said. Every one went inside then all the sudden the doors closed every one tried to open it but they couldn't "roar!!!!!!!!!!!!!"They all heard a noise "ahh" every one screamed. "Okay don't be scared every one split up and find an exit

"Okay" every one replied. Angel, Jordan, and Diana went together and Eduardo, Edith, Claudia, and Mrs. Apple went together. "Roar!!" yelled donkey Kong and jumped down and ripped Mrs. Apple and Claudia head off "ahhhhh" Eduardo and Edith ran. Then donkey Kong went after Diana and Eduardo he snapped Eduardo's head and ate Diana guts. Angel ran for his life. Then Edith, Angel, and Jordan found them self's in the kitchen "we have to kill that thing" angel said in a shivering voice. Then they all got knifes and went looking for donkey Kong "roar" donkey Kong grabbed Jordan and dragged him away and ribbed his arms and legs off then donkey Kong went to look for angel and Edith "roar "and donkey Kong jumped in front of angel. Angel staved donkey Kong in the heart and 1 hour later police came and saved angel and Edith they both moved to L.A. and got married and lived happily ever after in memory of his dead friends.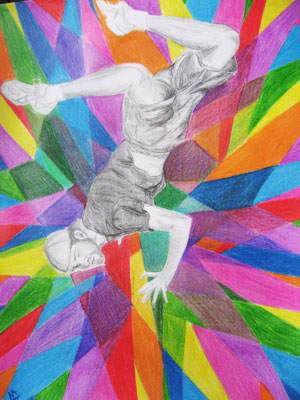 © Anonymous