A modern war
April 3, 2010
Outside of Kabul, Afghanistan, January 2011
Pvt. Richard (retro) Graham
Here I am in afghan. Why? For the sake of my family. And here in complete wilderness I was in an army van surrounded by mountains and… mines. The US army finally took some territory in afghan after the long year of soldiers going in, but not out. The word to describe this country now was dead… literally.
We traveled by day which was safest because if you wanted to not be blown to pieces you would like to see where it/the rocket was and where to run. We followed the road for hours. It was my turn on gun. I climbed to the top of the van and took position. I had a bad feeling or maybe just my distrust of the driver as the van swung left and right. Then I saw a heavy amount of smoke rise from the mountain, I turned my head the driver lay dead in the shotgun seat next to him was Captain Johnson with his face red from yelling "OUT!!!!Evacuate the van immediately!!!!" I panicked I had no time to think, but miraculously I jumped on the van and rolled off in time to see our old car in flames.
Captain Johnson yelled "Private jack! Private Holster!" "Alive! Sir! " One voice replied which I guessed was Holster. I pushed the debris off my body. I heard the captain yell "Private Graham!" I replied "ready to kick some Asian butts! Sir!" captain Johnson smirked "I need more enthusiastic men like you, Graham." "The most you'll ever find! Sir! " Another rocket hit the brown earth, I shook. Captain Johnson shouted "Ok you two, time to hang on to dear life and run. I'll meet you at the cliff's edge."
I said "Ok, sir" trying not to sound too nervous. He shouted back "It'll be ok, newbie, just a little jogging." I added "and a little dodging too." He already started running "hell yeah!" I ran faster than the Taliban vehicles approaching. The ground shook as dirt flew over my head and holster's. Then at last we reached the cliff's edge barely missing a claymore by half an inch. I looked back holster was on the ground covered in dirt I ran to him finding his right side dyed red I dragged him to safety. He looked up and smiled a painful smile. "Thank, thought I was a goner there." I laughed "no one gets left behind." He too managed to laugh, and there in the midst of battle were two men laughing at a close death.
Captain Johnson approached; he looked at our laughing faces then smiled "Time to bring in the predator." We looked at the laptop and wondered how he brought that thought, the explosions. He laughed and said "You can have first dabs at it, Graham." "Hooray." I said in an unsure tone of voice. I took a shot at it and hit the Taliban smack-dab in the middle. The captain smiled "you're a natural Graham." Now it was holster's turn on the predator. A big chunk of metal flew from this cliff to the next. The captain laughed! "Holster what did you do when you were 3 calls in air strikes? Holster smiled "No, sir. I just enjoyed tech a lot." "You should be a commander at HQ rather than a private in the frontlines." Holster blushed. Captain did his turn and we set off towards the city.
We definitely got a nice welcome more or less exciting then nice. We took cover behind a stone wall and were constantly fired at. I took a step forward the enemy thrown a large quantity of grenades at me. Amazingly I dodged some and throw back the rest. We where clear for now.
Before we went into the city captain Johnson warned us to not shoot civilians easy as warned then done especially when they are panicking. I tried to calm them down but they did not understand so I walked in the city regretting learning Latin in university instead of Persian. We kept walking holster managed to calm them down since he was a master in languages he did not speak fluently but it was enough for them to understand.
I began noticing shadows on the roofs of the houses. I began doubting and expecting an attack. Captain went in a building quietly while we walked on. A Taliban sneakily put his gun up and suddenly the gun fell along with the body, and at the same time the red white blue flare went up meaning now it's time. Holster and I managed to escape the barrage of bullets in time. We ran and shot and took down, but in the end captain Johnson still got the most work.
Right before I shot the last, the enemy fell of the roof. I saw the captain on the roof where the Taliban was. He had a reddened knife.He smiled, "I took your glory, Graham." I thought in my head "what glory, glory is not the replacement of murder for me! Glory is the replacement of peace for me." But I answered "Heh! You sure are an ego filled captain" he laughed. He jumped down and we moved on.
Then I heard a sound of tanks from a distance. The cap and I paused and held back Holster. When we saw the tank we realised it was only the reds we sighed. I approached "Hello, we're Americans who were stuck here. Um, can you give us a ride back?" They answered but not by tongue but by guns. I jumped out of the way. Holster got shot in the leg and the captain in the arm. I rolled under the truck climbed up opening their cap with a grenade in my hand. Then out of the tank came a red I got punched hard in the face. I kicked him and had an awkward aim and hit the slightly more important part. He yelped in pain and fell back in the tank. I put my grenade in and prepared to jump off. I said a prayer of forgiveness to God and jumped off the tank, unfortunately landed on my rear. Some civilians grabbed me and pulled me to a safe distance from the exploding tank.
I thanked them but wasn't sure they understood but they nodded. The mission was over. Holster became a pilot of the air force and a technician of our forces. In our later missions he helps us with air support close escapes and so on. Captain Johnson retired and went back to his family with a broken arm and I become a SSgt of our American forces and finished many missions. I prepared in our headquarters for the battle of Mazar-I-Sharif.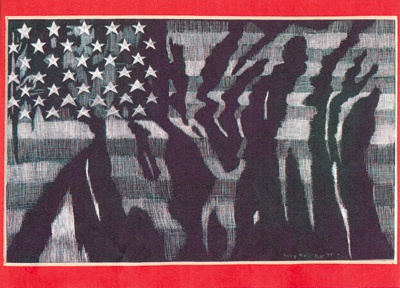 © Haley M., Ellinwood, KS