Hidden in this city
September 25, 2010
Prologue:
Sweat formed little rivers on my face which joined at my chin and slowly dripped off. I wiped my hand across my face. My eyes sweep the area and come up with nothing. Still, I hesitate because I know they can practically materialize out of thin air. That's how good they are.
I close my eyes and clench my fists tight, trying to visualize every detail along the street from my standing point to the door in which I'm going.
Finally, I take a deep breath and dart out from my hiding place. The moon illuminates my path so I can see clearly. Out of the corner of my eye, I can see rodents scurrying away from the sudden noise my boots are making.
Contrasting from the bright lights and friendly noises of Easthampton, Northampton is filled with ominous noises and streetlamps that cast an eerie glow over the road.
But I wasn't intimidated by the threats of Easthampton because I was much more focused on a more immediate and dangerous threat.
I wove my way through the twisting street, swerving to avoid bumps and jumping over obstacles. Mentally, I counted down the remaining blocks till I reached my destination: 5…4….3….2. I made the last turn and allowed myself a little hope.
I sprinted on the last stretch. 7469 w. Tempest. That was the address I was looking for. I searched for exactly 20 seconds before I located the little house and knocked on the door. The door yielded under my touch so I cautiously stepped inside.
"Johnny?"
All the lights were off as usual so I casually flipped on a switch. The lights flickered before bursting to life. That's when I saw it. I knew better than to scream; that would only succeed in alerting them of my presence. But I couldn't help the small intake of breath when I saw Johnny's body. Unconscious on the ground.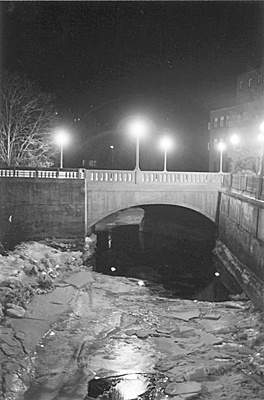 © Peter G., Glenburn, ME