Desperate Measures
April 1, 2013
Bang! A body drops to the floor in front of me, dead. How many is that, three maybe four?

"I said nobody move!" shouts the robber. He is a middle-aged man, in his forties, with gray hair uncommon for his age. It is severely disheveled, strewn in random patterns on his head and clumped with sweat, so it appears a charcoal color. His facial hair has grown ripe, nearly filling his neck and face. He wears tattered clothing: a flannel jacket with holes over a stained white-shirt. There are patches on his pants and he grips his gun tightly in his hand, as if he were afraid he might lose it. His eyes dart around the room, ready to shoot at anything that moves. I stare silently as he backs his way into the other room, and drops to his knees in an attempt to unlock the safe. His hands are soaked and they shake as he puts the pick to the lock. He tries and fails to open the safe, and eventually the pick snaps. I see the man stare at the broken pieces on the ground, and wait for him to erupt, but he doesn't. He cries, slowly at first, and then he starts heaving great sobs that stream down his face and soak his shirt.

As I huddle down under the safety of an office desk I hear him mutter to himself.

"It's over," he whispered, "I'm done."

I watch as he regains his composure, and stands back up. His face has grown red from the tears, and as he stands our eyes meet. They are a gorgeous deep blue, speckled with bits of gold and green, and they seem to glow from the inside. Our eyes meet for but a brief moment until he looks away and stares at ground. He then walks up to the window and looks out and up at the sun, and mumbles something that I cannot decipher. He looks at the gun in his hand.

Slowly, he pulls the hammer back.

I close my eyes.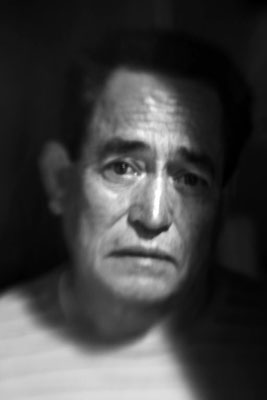 © Adam P., Goleta, CA