STOP AT THE ISLAND
April 9, 2014
At the time of winter vacations Lakshmi, Nicky and Sanjay's joy knew no bounds. They were going to an Island!

They packed their things and got ready. The next moment they were on the ship. They sailed for 3 days and reached the island its name was Rovin. Just a 3 km away from Rovin was the Horvee Island with a mysterious Cave. The 3 kids wanted to go the cave, but they were not allowed .They came back home after a long stay at Rovin, but their minds were still at the mysterious cave…….

The summer vacation came; Lakshmi, Nicky and Sanjay's joy has to be extreme as their reports were the best. At home their parents told that "You all go to Rovin once again and meet Sharath and Nadir". The 3 were overjoyed. They went alone to the Island and met Sharath and Nadir .Later that night the 3 of them sailed for Horvee……

They sailed quietly and quickly as they can, they reached Horvee and went inside the cave .Suddenly the door of the cave shut and they heard evil laughter. They were in the prison! They were trapped!

After a few days they saw a key on the ground .Lakshmi took it and tried to open the door. It opened! They were saved…..
They came out and saw a pirate costume. In fact there were many. They understood that the dacoits were wearing the pirate costumes.

They fought with the dacoits, tied them and sailed with them from Horvee to Rovin and handed them over to the police.
They got an award from the police department and their parents were proud.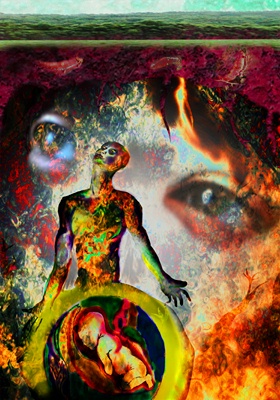 © Tom M., Philadelphia, PA