When the Sunlight Glows
December 17, 2015
"What is it, is it one of those weird chipmunks we saw at that diner?"
"Shut up squirt, get down!"
"But…"
"Did you hear me? Get Down!"
I was frightened when Jayma got up to look around the crumbling gas station we stopped by. She took a piece of glass she found on the ground and threw it outside the store, making an irritating sound. I could here the paws or feet of the animal scratching its way to the door, then leave. It was complete silence for a little until I heard snarling, then screaming outside. I knew it was Jayma fighting that animal, whatever it was, and I couldn't tell who was winning, as I stayed hidden in my artificial safe house behind the store clerk's counter. The snarling continued for a while until a loud moan screamed out, following broken glass being crunched. I peeked over the counter to see if anyone, or anything was there. There was nothing.
"Get up, Ashton, we don't have much longer wimp."
"Jayma! You startled me, don't do that," I said, rubbing my arm since she grabbed me intensely.
"Relax kid, I knocked that creature into the trash can and it can't get out. It's actually pretty funny. I doubt that we should be worried but we better leave soon, we have a lot of walking to do so hurry up and find anything you can," Jayma exclaims this, confident in her one soldier to do an escort mission with his Jansport backpack strapped onto his bare back. I searched around the gas station, only to find half of an eaten donut along with two warm bottles of water and a Pringles can. I was about to take a bite of the donut when Jayma snatched it from my grasp. "I deserved this kid, since when do you have the courage to fight a rabid animal, huh?"
"Jayma, that isn't fair, please share, please?" I wined.
"Fine wimp, as long as you have something worth more than what I found," she bragged as she pretended to take a bite out of the donut.
"How about a Pringles can, look it's even full Jayma," I said, showing her the contents of the can.
"Not too bad, but nothing beats a full pack of cigarettes, two lighters, and a Twinkie," Jayma bragged, shoving the cigarettes in my face and celebrating by eating the donut with as little as two bites.
"What about the Twinkie Jayma, please can I have that?"
"Maybe but let's go, we have more to search for," Jayma told me, as we started to walk off into the next few stores that came along.
With each store we visited, it's contents of rubble and destroyed concrete discouraged us. It wasn't until we found the fire station barely standing on its last breath.
"Come on Jayma, let's go, I wish we can see a fire truck in here, hurry Jayma, hurry!"
"Hold on kid, you're becoming more annoying than I can take."
"Oh fine Jayma, but if there is a fire truck, can I stay in it, please!"
"I doubt it kid, I really doubt it."
We walked into this now desolated piece of rubble where we searched each room of the station. To my surprise, there was no fire truck. We looked around for something useful; maybe find some vintage helmet.
"Ashton, get down here, now!"
"What is it, is it an axe? Please be an axe. No, wait, let me guess, it's a…"
"Machete kid, it's a machete. Nothing else kid," she told me, cutting me off when I wanted to guess. Sometimes, Jayma can be a real bummer. She took her new best friend and latched it to her tainted, ripped jeans along with her greaser jacket that matches her leather combat boots.
"This looks like the machete my father use to carry when he found it at the Vietnam souvenir shop; sturdy, sharp, and ready to kill," Jayma exclaimed.
"Is your father still around?"
"If my father was around, do you think I would of stayed with you like I have been?" she snapped at me.
"Sorry about that," I said, as Jayma waked over to a broken mirror.
"This machete sheaf matches so perfectly with my outfit, it looks so cute, don't you agree Ashton?" she said with such enthusiasm.
"Sure I guess," I told her, "are you going to use it against that weird squirrel at the gas station?"
"Nah, we should start heading out squirt, we have to start walking out."
"But don't you want to take a shower over at the locker room Jayma?"
"There. Is. A. Shower! Why haven't you told me this!"
I stuttered as she started to threaten me with her new friend, "I was going to but you called me down and I forgot so, sorry?"
"Show me now, I need one so bad, you have no idea kid," she begged to me.
"Alright, but only if you give me the Twinkie Jayma," I compromised to her, knowing how desperate she was.
"How about a cigarette, hmm? Don't you want a little smoke or something kiddo?" she said, trying to bargain without losing her prized Twinkie.
"Twinkie or nothing," I demanded.
"I hate you," Jayma said, giving up her Twinkie to me as I led her to the showers.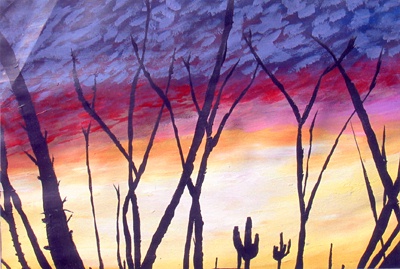 © Kassia C., Phoenix, AZ