The Dream
November 17, 2009
I'm standing by a street in a neighborhood that I know, or rather I feel like I know, well. I feel strong arms wrap around me gently and lovingly, I look up into a young man's face and he's smiling at me with love radiating from his eyes. I smile back just as warmly and I know that he's my boyfriend and that I love him as much as he did me. My stomach felt heavy like lead at this strong emotion, but it was a good feeling.
He was tall with dark hair and either brown or hazel eyes with heavyset shoulders.
A group of boys walk up, I feel like I know them, too, and they ask him if he wants to play a game. He looks at me, the struggle of wanting to stay with me and keeping a good relationship with his friends plain on his face. I smile up at him and said, "Go ahead, I'll be in your house." Then I kissed him and he smiled happily, "I'll see you in a little while, babe."
I was now sitting on the couch in a house. I know that it's his house, I'm reading. Suddenly, one of the guys that had been with him ran into the house, "He's been hurt! Broken leg, I think."
I felt my heart fall to my feet and I rush out of the house. I see a white a truck and I know that he's in there. It starts to drive away and I run after it, yelling at them to stop. I can't catch it and it turns a corner. I feel like I've failed and that I might never see him again. I hit my knees and start crying. A girl that's no taller than me with short, brown hair and brown eyes that I don't know walks up to me from the garage and puts her arm around me. "I can take you to him if you want me to." She says.
I suddenly feel hope, I WILL see him again.
The alarm clock went off and I woke up.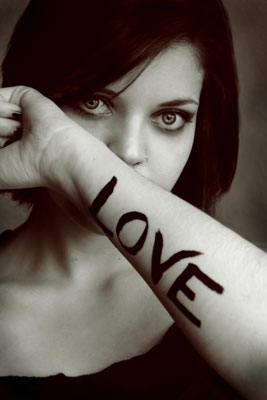 © Michelle B., Blairsville, GA