Vacation Gone Wrong
April 17, 2010
Ugh, I'm on a plane. Next to my snoring mother and a lady with a baby boy in her lap. I'm stuck in the middle of these two people. Great this is going to be a very LONG plane, ride.

I look at my hand, chipping off the remainder of red nail polish there. The red chip-lets fall on to my jeans I brush them off quickly. I try getting a book from under neither the seat in front of me, but I couldn't. The person is front of me was reclining back so I sat back and glared.

What a great family vacation. Me and my mom going to Fort Lauderdale to catch a boat. I was playing my neon blue bracelet when the little baby took my hand and tried biting my bracelet. I tried not to look disgusted. OH MY GOD! HE LICKED ME! EWW! I took my hand away and the baby started crying.

I quickly made it so I looked like I was sleeping when the mother opened her eyes and comforted her son. I was taking in slow, even breaths when the plane rattled. Like you know, bumper car way.

The pilot came on.

"Ladies and gentlemen. Please do not be alarmed. We have entered a slight storm with a strong breeze, we will pass it soon enough. Thank you for you cooperation."

I opened my eyes and looked at my mom. She had the same expression I did. We traveled a lot, so we knew this wasn't that good.

The next thing I knew we were jostled upwards. I grasped the seat, my knuckles white. Screams erupted all around me, and the baby was still crying.

Soon, we were spiraling. Down towards Earth. Down to where we would soon... crash. I knew we had the impact more than I felt it honestly. I was numb in fear and confusion. It took me a few seconds to realize I was in pain.

My arm and ankle hurt, while I unbuckled my seat belt. I got up and fell back into my seat. I puffed out a sigh. I tried again, grinding my teeth against the pain. I used my good arm to open the emergency door and looked out before me.

I fell onto the sand. It was white, and we weren't in Fort Lauderdale, I knew that much. I had no idea where i was. This much I knew

I was one of the ten survivors of the plane crash

We had no way of contacting other people.

We were stranded on an island some where near Florida. With no way home.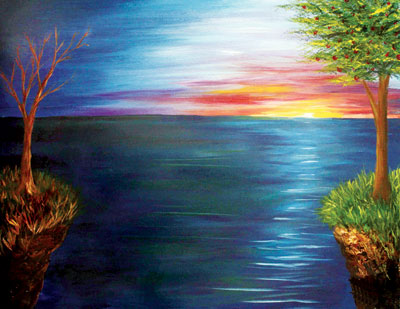 © Ariel G., Moses Lake, WA