The Duration
July 5, 2010
The duration of a school year is comparable to a marathon. A few days before school starts, she is excited for school. Who are my teachers? Are they nice? Which classes can I get away with doing my homework? Will my classes match up with my friends? She may pace around her room the night before. At the same time, she may casually glance at her desk, which is as neat as it has ever been: all the pencils sharpened, notebook paper in a pile, sticky notes off on one side, and her backpack hanging on the back of the desk chair. The brand new backpack is stuffed with all the textbooks for the year: they won't all fit. Along with her textbooks, there is a binder and a pencil pouch filled with a more than a necessary amount of pens, pencils, and highlighters.

At the beginning of a race, she is pumped and ready to go. She is sporting a new outfit, and is looking happy and determined. The horn goes off, and a nano-second later, so are the runners. Everyone feels prepared and able. They all start with a positive attitude and a steady pace. However, just like in school, the running starts to take a toll. It becomes harder and harder to kept her feet moving forward when all they want to do it stop. There seems to be an invisible weight bearing down on her. This weight is comparable to all the rumors, stress, tests, and pressures of school.

Now she is halfway through the marathon, and she feels as if she'll never get to the finish line. Midway through school, she starts to wonder if summer will ever come. Does it exist or was it my imagination?


Now, the runner can hear the crowd cheer. Her pace picks up with new found energy. She has adrenaline pumping through her entire body.

It is her last final, two more questions, and then she will be free!

Two more yards!

Running towards the beach.

Sprinting through the finish line.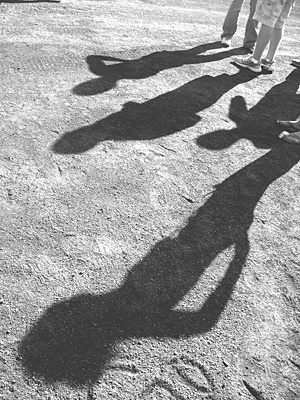 © Trella R., Mountain Lakes, NJ