Latent Larry
October 11, 2010
His momma called him Latent Larry. Latent Larry was a small green frog with no particular talents at all. This was why Momma Frog referred to him as latent, in the hopes he had some latent ability just waiting to burgeon.

Latent Larry was daft when it came to mathematics, useless when it came to science, and clumsy when it came to art. Momma Frog couldn't get him to read a single tome, render one painting, or even stop to ratiocinate a bit. Her life's dream was to see him become the paragon of frogs, but nothing he did was meritorious, and the only thing Latent Larry was deft at was talking.

Latent Larry was verbose in all conversation. He was horribly loquacious, and for him a synopsis was an endless tale with way too many details. All the other frogs his age ostracized him like a pariah because they couldn't stand his meaningless chatter. With only nagging Momma Frog to keep him company, Latent Larry had never felt so lonely. He talked even more because of this. The talking filled up the loneliness.

He talked about sports and the weather. He talked about the tadpoles in the pond and the mud after a rain. He talked about animals, and people, and frogs, and bugs. Latent Larry had never been more talkative.

Then one day while Latent Larry was trying to understand geometry, he noticed a very shifty looking frog talking to two other very suspicious toads. Latent Larry snuck up behind them to listen. Listening was hard for Latent Larry, but he tried his best.

"Today at sunset we will bring in the dogs," the frog croaked. "They will destroy Frogsville and all the inhabitants. Then we will rebuild and rule!" The frog grinned sneakily. "Mwa-ha-ha-ha!"

Oh no, Latent Larry thought. I must warn everyone! Latent Larry hopped as fast as he could to the center of Frogsville. He took a deep breath, and did what he did best. He talked. Very loudly.

"EVERYONE TAKE COVER!" he bellowed. "AT SUNSET THIS CREEPY FROG GUY AND SOME TOADS ARE GOING TO BRING DOGS TO FROGSVILLE AND DESTROY THE TOWN! SAVE YOURSELVES!"

The frogs stared at him. No one was willing to believe someone as impossibly annoying and stupid as Latent Larry. He was probably just trying to get attention.

Off in the distance a dog howled. Chaos ensued. All the frogs scrambled into their holes frantically. Latent Larry dug his own hole and waited under the ground fearfully.

The dogs came and went, confused. Where had the frogs gone? They even forgot to destroy the town. When it was safe to come out of their hiding spots, all the frogs praised Latent Larry.

Latent Larry was never called Latent Larry again. Larry took up a job in elocution, the art of public speaking. And he talked, to the many frogs who would listen, all day long.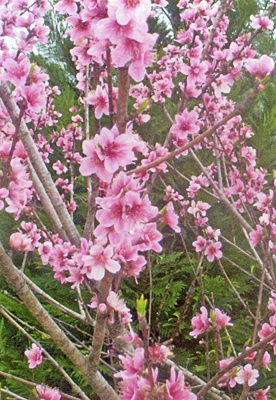 © Matilda S., Perkinston, MS