The Mirror
January 7, 2011
It was as if a cloud had been lifted from his gaze. As he beheld the room around him, he understood the room. His knowledge was only limited to what he could not see. With this own knowledge, he continued to make unorthodox realizations.
If he could understand only what he saw, how could he understand himself, and from that, how could he understand that he understood what he saw. Like blackness, he was consumed by the paradox, his mind twisted, and his enlightenment was nothing but a curse, a revealing of what it was he should be. He pleaded for the blindfold to be placed back on himself; he begged for darkness, he struggled against his restraints as he sat rigid in his chair, unable to make a movement any larger than a fidget. He need only see one of the men to understand. A hand, a face, anything to plant the understanding into him.
The nightmare had only just begun. A sound greeted his ears, but no inspiration of knowledge came to him until his eyes could see it.
A mirror.
Brought in by a man whose figure was completely hidden behind, supporting it with some kind of handle so was supposed. The mirror gave the restrained man understanding. He looked into the mirror, seeing himself in all likenesses. He saw his flesh, mutilated and torn. His head, bald and shiny with blood, scars of knife wounds and whip marks visible clearly. His face was running with tears of blood, as his eyes grew wider than before, and began to bleed with more intensity. His nose was no longer there, but rather left was a roughly triangular hole that gaped out with evil and ran forever crimson. His mouth was contorted into a grimace with his teeth, the gums swollen and the white almost unrecognizable under its scarlet cover. His ears, or it would be more proper to say 'remaining' ear, was a thing that looked as if a dog had found its love-mate in chewing. The left side of his head was comparable to the nose.
Despite the fact he wore clothing, he understood what was underneath the shirt, once probably white. He knew what was underneath the damp cloth, because he understood. The white room around him was spacious, but its walls seemed to narrow in, and he felt trapped, trapped in his restraints, trapped inside this room, trapped inside the body of a walking corpse.
And with all his realizations came pain. He saw his body in such a state that was so deliriously injured, that the neurons of his system quickly maximized the full potential of his agony. With the insane power of his eyes, the things that knew with only a glance, his torment was more the worse.
In the white room, with only his pain and the mysterious torturers behind him, the man went insane. His insanity was that of a wave that clouded what was once clear, dampened all his vision, and demolished his ability to see, to understand.
Finally, he made his last request, the man, tormented and tortured, forever without peace, begged for death.
With great mercy, the blindfold was put back over his eyes.
With great malice, the blindfold was soon after removed.

When he awoke the next morning, Jonathon put his hands to his face. In this gesture, he rubbed his eyes and tried to comfort himself as he walked out of bed and drudged himself to the vanity area. As he looked at the mirror, this young man, living in the house of his parents, waking every day to return to school and hide himself within the social norms surrounding him, saw not a sad, tortured man, but a weak, feeble boy, whose secrets were highest priority and whose pain would soon be removed.
In his times of insecurity, he would tell himself in that mirror he would never overcome, he would get worse and worse, become more miserable and more miserable, and one day, he would cry out for death.
Despite all his pain, despite all the weight he carried himself with; the young man went to school. Hoping that one day, his secret would be revealed, the blindfold would be lifted, and everything would be okay.
Understanding came without revealing who he was.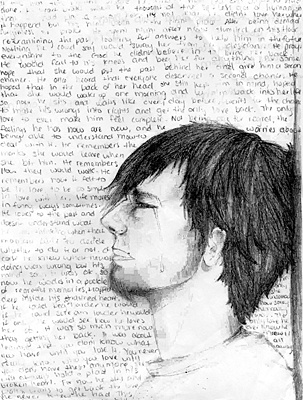 © Annie M., Columbiana, OH