Flat Line
March 6, 2011
Beep Beep Beep
A steady rhythm. A rhythm that would not stay, all because of fear, the man thought.
"Susan" the doctor in a white suit said. His eyes were filled with worry behind the too big glasses he wore. His bare scalp shining in the overhead light as he looked upon the scrawny girl lying on the white bed. Generally, he would not come to know his patients but how could he not be close to Susan, after all they had been through.
Beep Beep Beep
A steady reminder, I'm still alive, the girl thought, but I'm not afraid.
"Yes, my name is Susan," the young girl answered, and raised her grated head just a few inches, wincing in pain. "And my friends call me"The Survivor" She added longingly searching for some kind of praise from the withering man in the white suit who helped her. He was her friend, she knew it, and friends help each other, they stick together till the end. The old man put a ghost of a smile on his face, trying to be optimistic despite the events that were going to happen.
Beep Beep Beep
What will happen to her future? Her ideas and dreams? The man answered his question: it's being counted down ,Beep by Beep.
"Very good, Susan" the man said. Susan saw that he still wasn't happy. She pushed herself up, swung her legs over the edge of the bed and gave the man a hug. It felt good, no, great. She stood up without anyone helping her. She squeezed him tighter. He was still sad, what she do to make it better?
Beep Beep Beep
I'll miss him, she thought. I hope he finds my note. I'm ready for the count down, I am. But she knew she wasn't.
He was shocked. If only they could see her now, he thought, they'd give me a couple more months to let her live. She only needs a few more months, just a few. Gently he released her arms and laid her back to bed closed the door and left. She had made so much progress; he was not going to let her die. Not as long as he was her doctor…. But he wasn't.
Beep Beep Beep
She will have more time. She will live. The man stated, but he wondered, Why does if you can't work mean you can't live?
Beep Beep beep
I hope you are ready, dear friend. I'll always remember you. Remember me.
Beep Be--
I'll miss you.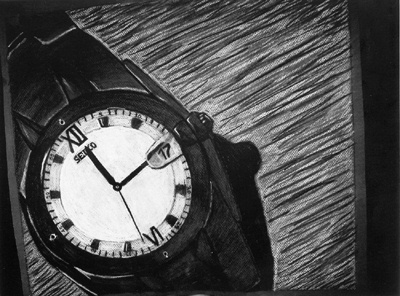 © Rachel U., Danbury, CT