Eyes of Piercing Blue
July 24, 2011
A maiden with white hands and rose touched ivory cheeks wipes a small blue handkerchief across her face. Her sun-kissed blonde ringlets line the soft edges of her young face. Her piercing blue eyes dart about. She sits in a frill-drenched dress on the edge of the park. At exactly half past nine she opens a silk pink pouch with an oddly shaped jewel crowning the clasp and takes a small leather bound journal out. In practiced script she writes one word.

Murder.

Then she closes the book places back into the pouch and continues on her way, without looking back.





***********

Later a man is found in an ally way a block away. He is dead, no evidence of struggle, no blood, nothing broken. In his hands lay red flowers and on his cheek a red kiss mark, though it appears to be some type of French rouge, it found to be blood. No one is reported missing and the man remains unnamed.






***********
In a small village house not so much as a mile away from the park, a baby girl is born. She is said to be perfect, no mutations are to be found. The doctor tells her parents, "A very average child, in all respects. Except, of course, for the eyes." This is proven true as her eyes dart about the room attentively. Her parents see that they are clearly extraordinary. As she looks at the window the sky catches a glimpse of their piercing blue.





************
The very same child runs along a dirt path in the woods, trailing behind her are two boys that look to be about her age. Tall spider-like evergreens drench the sunlight with shadows and create gray patterns along the path. The girl looks to be around eight, maybe nine. Blond curls trail behind her in the wind creating a sight with the likeness of a shooting star. She glimpses over her shoulder and sneers, "Hurry along, we aren't going to make it there on time."

"Mary," whines the smaller boy who is clearly out of breath, "you are going too fast."

"Nothing is too fast," grins Mary, "The world is always moving, and so must we. Now hurry it's not much farther." They continue and eventually reach a clearing where the sun is now yellow and clear, in the middle a small blue spring filled with smooth stones sings. Its water ripples like curves among glass. The girl stares with her eyes fixed on the smooth water. "Here," she states, "It should be soon." The boys stand at the edge of the clearing and watch wide eyed as the sun hits the water and its brilliance encloses Mary. In a moment the young girl's soft skin turns scaly, wrinkled, and old. Her spine curves to a hunch, her golden curls turn to a frizzy white mat that barely covers her sagged scalp. She is an old woman, all features have been transformed, not gradually, but as if a light has been turned on that shines on her to show features formally hidden. The only part of her that remains unchanged is her brilliant blue eyes. As soon as this alteration comes, it is gone. The light moves and she is suddenly a child again. The boys are stunned. The eyes hang wide and they have obviously lost control of small mouths that sway in the growing breezy. One boy takes a step back. "Ma.. Mary?" He stutters. Mary smiles and throws her head back into the wind.

"It's still me silly," Mary laughed. She takes a step towards the boys who inch to the edge of the clearing. "Don't go away, I am not any different. And besides you won't be able to get back on your own" She starts out of the clearing and back down the dirt path. The boys reluctantly follow her, but staying a good five feet behind at all times. They are scared of what they saw, but they know no one will believe their story. Mary knows that they are stuck in secrecy so she doesn't emphasize how they must not tell. As they arrive at the village night is closing in and they return home to sleep.






*************
The next day the boys meet at the old oak by the lake. They want to discuss what to do. But before they can open their mouths, Mary is there. She leans casually against the tree. Her smile is a dark shade that these boys have never seen before. Scared, the two boys back away their hands covering the words that they were about to say. Mary smiles. "You wouldn't have been, about to talk about me would you?" She whispers just low enough for them to hear. A cloud blocks the sun, and the light grows darker with the mood. Picking up a leaf she says "I wouldn't dare talk about a friend behind their back you know." As she speaks, she stares intently at the leaf twirling about her fingertips. "Anger you know is never the answer," she looks into their eyes, "unless of course, it is." As these words leave her mouth the once plump green leaf in her hand, crumples into a light brown and dies. The boys are frozen fear. "Now," she continues, "don't go telling my story, if you don't want yours… to end." She drops the leaf and turns away. Leaving the air where she once stood unsettled.





*************
Though terrified the boys eventually forget her warning. It happens to the older boy first. He drinks to much at a party, and starts to tell of a girl he once knew. Who had the most piercing blue eyes and—but he doesn't continue. He suddenly remembers he must go. Mind blank he goes outside and hides a mile away from the village. And dies. But before he take his last breath, he swears that he sees two eyes of piercing blue staring him down in the dark.





*************
The younger boy leaves for a different reason. As he and Mary grow older they become better friends. They eventually fall in love. But on the day in which he tells Mary to meet him upon the park bench so he may profess his love, he is late thirty minutes late. And so instead he is murdered. By a beautiful women, in a fill drenched dress, with piercing blue eyes.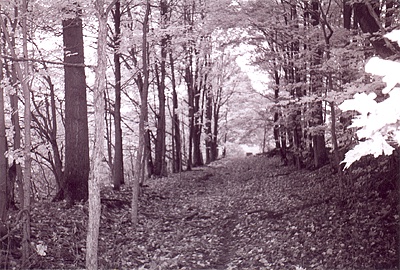 © Casey P., Marblehead, MA