Southern Belles
MAG
Basking in what little warmth of the Georgia
Sun I can get, I don't allow themarauding winds
To encompass my thoughts. I return to times before war
Tookeverything away. We are so poor
We have soleless shoes and holes in ourskirts.
People fighting over claims to our land,
The rich soil smellinglike perfume to peasant noses. Land
Is like God to most of the people ofGeorgia
Who are born and raised there; hoop skirts
And simple words turnedpolysyllabic. The winds
Painted it all to pieces. Nothing to eat, we arepoor
People fighting for our lost heritage. With as many wars
As there havebeen, you'd think we'd have learned. War
Murders men and women through thoseunborn. Our land
Is life-giving, if only we wouldn't kill it so. We strip itpoor,
And there is a drought of workers. Underusing the pureGeorgia
Fields. Why won't the evil foehn winds
Off the glacier disperse?Then I can wear pretty skirts
Again. Did I tell you about how myskirts
Were wired like a lampshade? Soldiers from the war
Liked to comeback and dance with the campanas. The wind
Would rustle through my hair as"Dixie" played. The land
Would wail for our return in our dreams.Our Georgia
Opened her jagged crags, and let out a mournful cry.Poor,
Sweet, home! But sometimes I didn't mind being poor.
There is alwaysworse. Like prostitutes flipping their skirts
To get food. That is the deep ofGeorgia's
Problems. We were in a thicket of the war
Between the North andSouth. Soldiers cleared land,
And slaves dug ditches for them to hide in. Thewind
Would waft the pungent bodies of soldiers. Windy
Days could carry nomore peach pits. I feel poorly
Just thinking about my life now. I am alandlubber,
But I wish I could be on the high seas, skirting
The Bahamaswhere remnants of the war
Can't be found. I'd say, "Farewell,Georgia!
One day I'll return to your land." To times beforewar,
Because it was so nice not to be poor. Such lovely skirts,
Youremember! The wind was like lace in my fair Georgia!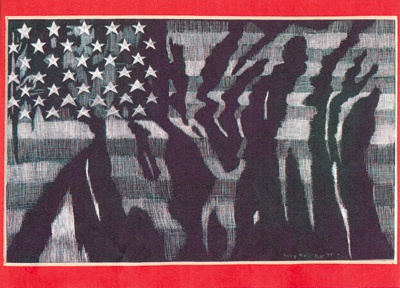 © Anonymous