The Sound of the Trees
December 15, 2011
If I'm correct, a Confederate cook attached to Stonewall Jackson's army first dropped me into the earth. The rebels were losing the war and now ground acorns into their coffee. Can't really say if that's Southern tradition or out of desperation. Anyways, I fell into the fertile, slightly damp earth. Cracked open about a week later and my roots began to snake their way downwards as bedraggled blue-coats stomped over me. Mercifully when my first leaves emerged the fighting had stopped and all the soldiers went back to their devastated and heartbroken homes and families.

When it rained, I drank deeply and when the sun shone I absorbed as much nutrients as I could. Didn't need much, really. Eventually someone came over and carefully shoveled me out of the ground, wrapped my delicate roots in a burlap sack and took me to a park. By the time that happened I was three years old and beginning to branch and leaf out.

Once I reached my full height, people from all around paid attention to me. Late at night once a group of men in white sheets with burning crosses galloped over on their horses to me. On the backseat was a young black man, shaking and terrified. They strung a hemp rope over my strongest branch and hung that poor feller. I didn't know what was happening, but afterwards some of the men in white sheets kissed my trunk and engraved strange marks into my bark.

On weekends after families came back from church they would come and picnic underneath in my shade. They had pitchers of lemonade, bread, cheese, fruit, and fried chicken. The younger humans clawed their way up into my branches like demented cats chasing pigeons, and after they all left lovers would come and pass the night under my branches. They would wake up with leaves and acorns and dirt stuck in their clothes and hair, giggle, get up and leave. That's been happening for the last century or so.

During those times I didn't absorb just sunlight and water but the laughter, tears, vomit, drunken urine, fear, ecstasy and boredom of all those that came. Sparrows built nests in my branches, and ants and termites waged bloody turf wars in and out of my body that left my trunk weathered and scarred. Squirrels would bury my acorns in the park, and small trees, my offspring, would pop out of the ground. Once one very old man, toothless, crooked, and withered like a salted haddock came and sat down beside me. He pounded my trunk, screamed at me, broke down in tears, and began to whisper secrets that no one could hear. I listened and offered as much comfort as I could.

Almost no one will take the time out to listen, let alone speak to me. The police could come and I could tell them where the body they've been searching for twenty years is interred. Nothing escapes my watchful eye. I witness toddlers grow into men and women blossom, find their purposes in life, reproduce, and then watch their own children do the same thing. Sparrows, squirrels and the ants that gnaw on my insides all complete the circle of life. Whether their lifespan is an hour or over a century, there is no difference. I could tell people that I weep and laugh and witness their misery but they're so wrapped up in their own lives that they never bother to notice.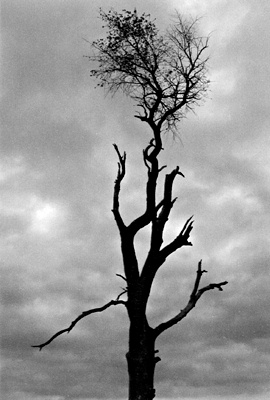 © Cassie H., Carmi, IL