Chapter 1 ~ Raven
January 3, 2012
1.
Raven



In a silent corner in a too clean room leaned a fifteen year old girl. She looked out at the room which was furnished in a white leather couch, a small glass table with a neat bouquet of red tulips and a crisp new newspaper which lay beside it. That was all and I don't blame the girl for gazing into the room in a way which makes one think that she was about to fall asleep. From another room came the sound of music. At first it was hard to tell what it was that was playing, but soon it was recognized by the girl and she gave a small smile as she nodded her head along with the tune of Aretha Franklin's "Find Me an Angel". She took her hand from behind her back which had been propping her up against the wall, and walked out of the room. When she made it to the bathroom she looked in the mirror and frowned. She applied black mascara to her white blond eyelashes, now they were visible. Usually they seemed transparent against her pail skin but now they were visible to the tip. All her friends commented constantly about how gorgeous and long her lashes were, she was flattered, but she preferred her hair. It was long enough to brush the tops of her shoulders and pull into a bun at the top of the back of her head where she liked to keep it best. She decided to ride her bike out to the edge of the forest which was just a few minutes ride away since there was nothing else to do.
When she arrived at her destination and had just finished locking up her bike, she heard the rustle of wings beside her. Confused she peered casually to the side and surprised was looking into the large black eyes of a small girl about the same age as she was.
"Hi," she said in a sweet voice.
"Um, hi," she said back.
"My name is Raven," she gave a sweet giggly laugh.
"My name is Sophie, I don't know you do I?"
"Well, I don't think we've met in person."
"Oh," pause.... "Okay." Sophie was a bit confused about how this girl answered the question. She could have sworn she had been in kindergarden, dance class, or something else like that with her, but the other seemed convinced that they had never been introduced to each other. 'What ever she thought.'
"Hay, you wanna meet my friends?"
"Um, I guess since I don't have anything else to do."
"Oh, perfect, they're great."
They headed into a little clearing covered by the moss that covered the huge, gnarly, old trees. In the clearing sat three small girls hunched in a circle around a medium sized box, they were about the same age as Sophie and Raven. 'These must be Raven's friends,' Sophie thought, 'I wonder what's in the box they're hunched over.' Sure enough they were Raven's friends and as soon as they herd footsteps they started bustling Sophie into the circle and gesturing to her to sit down. "We've been waiting so long, we're so happy Raven finely found you," said the smallest, a blond girl and smiled at everyone. Sophie looked confused while Raven chuckled to her self and then announced to all that Sophie, the heir to the secret necklace of Fire Valley had finally been found. Sophie was confused again. Seeming to be the leader of this group, Raven ceremoniously opened the box....The necklace shone fire red, like it was burning in her hand as she slowly lifted it up out of the box. It sparkled like a million stars made of diamonds, gold and silver. Sophie felt overwhelmed, she could have sworn that they had made a mistake about who the heir was until the clasp settled at the back of her neck.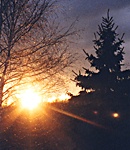 © Christy S., Germantown, NY