Bloody Valentine
April 12, 2012
The room was dark, with only a small sliver of light shining dully through the white curtains. The outline of a dresser was visible in the gloom, with a writing desk beside it and a white-wood chair gleaming bright even in the darkness. Standing in the doorway of the room the presence of a giant bed could be felt, dominating the small room.
"Johnny? Is that you?" A voice asked coquettishly from the giant bed.
"Yes, Kitten, it's me." A male voice answered, slowly the figure approached the bed.
"Hurry up." The voice implored to the darkness.
The figure's footsteps quickened in response to the plea. Making it to the edge of the bed, he stood staring at the black mass in-front of him. He could not see her, but he heard her voice again, somewhere close by.
"Hurry, Johnny, get in."
Although he could not see it in the darkness, the figure new she was smiling, he could feel the love in her voice. Could sense her love for him, yet he felt nothing for her. All he felt was cold remorselessness. However he obeyed her commands. He got into the bed. Then slowly from behind his back he pulled out something shiny, raising it above his head ready to strike.
"Johnny?" Her voice asked, streaked with sudden terror, "What is that? What are you doing?"
"You talk to much." The male voice replied with a grin slowly creeping onto his face, "I've come to silence that noisy mouth of yours."
"You're not Johnny!" the voice cried from the bed. "Where's Johnny? What have you done to him?"
"Loud, even to your last seconds." The figure replied, his smile turning into a scowl.
The blade of the knife shone briefly in the moonlight before coming swiftly down. A terrified scream pierced the night, then all was quiet. The figure left the room quietly, he didn't turn back. He held no regret, only the satisfied feeling of accomplishment.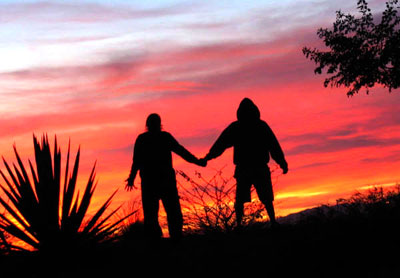 © Rosanna S., Phoenix, AZ