Through a Window
August 19, 2012
"Twenty minutes remaining before we reach your destination. We ask you to return your seat backs to an upright position and prepare for arrival. Thank you," says the stiff woman walking on heels like toothpicks and smeared in enough makeup to rival a clown's. This normally wouldn't bother me, but the smug look on her face was too much.

To show my distaste, I cut her off by returning my glance to the grimy portal on my left, displaying all the ugly gray clouds, like cotton candy gone bad; I really showed her.

As we lost altitude, we flitted through the mess of gray storm clouds, descending into a little doll town. I can't say why, but this array of golden farmlands and apple valleys and terra cotta houses with their sparkling blue little pools appealed to me so. I felt like a little girl with the most fantastic dollhouse in the world. They held such an enchantment over me, a plentiful number of colorful houses, peppered with winding roads and nestled between luscious green squares where the farmer would be laboring till dusk, perspiration singeing his brow from mosquito bites. Yet, putting his pain behind him, he continued, faithfully to his plowing, for he was the reason for these succulent green lands, so ripe and plump with fruit, the trees and bushes weighed down and swept the grass, like weary old men.

Turning my glance, I saw the thin strip of highway, as fat as a shoelace, with a long continuous line of baby cars. They were so tiny, so seemingly harmless, like little sweets on a silver platter set in the window of a bakery, so that all the little children would tug relentlessly on the mother's sleeve and beg to go in. The frosted red and caked black and swirled blue and sprinkled green all was so tempting to me that I just wanted to pick one up and pop it my mouth, like a piece of bubble gum.

The highway sped along and branched out into a busy web of skyscrapers imbedded between sprawling residential homes, which we edging their way into the city, all trying to cut their own slice into the excitement of the metropolis. The tall skyscrapers seemed to wear the same smug smile as the haughty flight attendant, caught into the incessant pulsing that possesses the city. Like hypnosis, it swept through the city, submerging inhabitants in a slumbering spell. So, they relaxed casually in their dim glamour, seeing only what that peculiar pulsing wanted them to see.

It was so delicious; to see the strong structure of this town that precariously balanced the rigid hierarchy on a higher plane, lending its subtle secrets to none but the harmless passerby looking out through a grimy portal in the sky.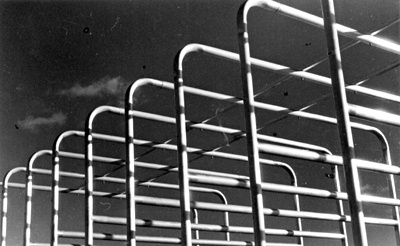 © Steve S., Marblehead, MA