Hell and Heaven
August 31, 2012
She's traveling down this road into the middle of nowhere, she finds a place where she can dance in the cold, white, wet snow.
It makes her smile, one she hasn't worn in awhile, one someone had taken away from her. She's got her life back, over come the demons within her but hell keeps pulling her back.
She's the princess. What type of princess? The princess of Hell her father Lucifer loves her with all his heart, but she's evil.


Shes on fire now all the snow melt all the angel kisses fall away from her, she is poison to the Earth bring nothing but sorrow, and pain.
She cries herself to sleep at night curing father for sending her their to complete his mission, his mission to take over the world.
She doesn't want to help him but she loves him, he is her father after all.
The problem is she loves someone else someone who is good, who has wings, and glows. He sends good news and messages of joy and happiness but her love won't send any her way. She is being punished for something she didn't do, something she was born into she has no choice but to listen to her father or be punished painfully.
Its a hell that she doesn't want to live in anymore, all she wants is to be loved but the horns on her head won't disappear it's the cold sign of what reality she lives in, shes the Princess Of Hell.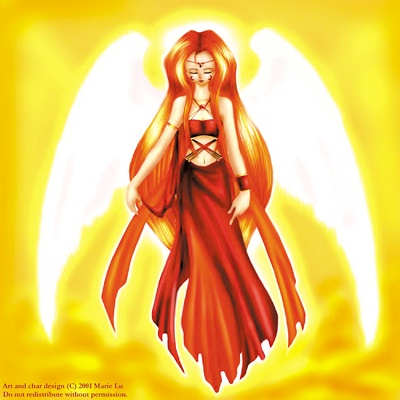 © Marie L., Sugar Land, TX