Do You Know Why?
October 2, 2012
"Why do you wear makeup?"
She was sitting on a stool, inches from the mirror, princess dress rumpled from playing outside.
I paused, mascara wand in hand, and opened my mouth to answer. I closed it again.
Why do I wear makeup?
The question clung to me, like the bright pink gloss on my lips, and gave no sign of letting go.
It stuck on fast, refusing to let go until I had sufficiently answered it.
The girl taped her shoes together, impatient.
"Is it so you look pretty"
I instantly shook my head, appalled by the thought.
"Then why?"
Still my mouth stayed shut, unprompted by a thought from my head. I had no answer, at least not a truthful one. I set the mascara back in my bag and studied my reflection carefully. Shimmering eye shadow, just shy of mocha brown, rested on my tired eyelids, bribing them to look alive. Harsh black eyeliner marched across my waterline like soldiers to their death, begging my eyes not to disappear, to just, please, look a little more awake. Stiff mascara forced my lazy lashes into long, seductive, black lines. The gloss on my lips shone back at me like some kind of inner light, but all it really knew how to do was reflect.
Before I knew what I was doing, I'd grabbed a piece of tissue and was wiping it all away. Every immaculate line, every smoky curve, every well placed falsification.
"I don't need it" I told her. "I know who I am"
She smiled at me, and began twirling in her dress. My naked lips gave a smile, and I followed her back outside.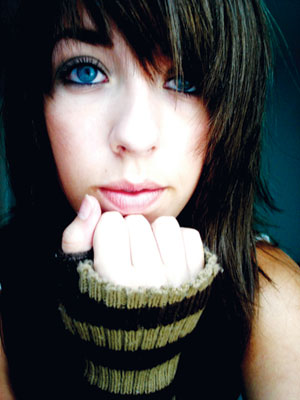 © Brit H., Peabody, MA