Cliffhanger
September 23, 2012
This little story of mine is not of happiness nor one of loss.  Redundant, is it not?  Often in literature, one speaks of their life in this very sense.  My whole existence rests on my belief that my story is rather one of self defeat even though love was handed to me as my hands grasped it so tightly.  Many close acquaintances led me to believe that I would break my fingers, for I did not want to let it go as others have.  To be fair, my mother made me promise not to be so reckless as to let him walk away.  She was right and I was wrong.  Why did I always have to be so reckless? 
Tonight I stand at the edge of a cliff, ready to plunge my body into the freezing temperatures below.  The winter air is thick and dry to the taste. It is salty; the chill burns my bare legs and arms so that they are numb.  Standing among the clouds, I have a choice of life or death that must be decided ever so gently, ever so carefully, but in truth my mind has already been made up.  I stand on the edge for a second, running my hands through my hair, trying to rationalize with the voices in my head.  The voices sound like his. 
I tell them how I have chosen how I wish to die and I do not take this liberty for granted.  Many have died when they are not ready, but no, not me.  I will not die in a car crash.  I will not be murdered by a lost somebody who only feels good with a knife or gun in their hand.  I will not die unexpectedly in a hospital bed like my sweet mother, for nothing is more terrible than living through only 17 of your baby's birthday cakes- 18 if you count the one that was unintentionally left for the dog.  In my mind, I have served my purpose.  The voices cannot sway me. 
And so here it comes, the dark-hooded creature named Death, with its arms stretched out to me.  I do not shove it away.  Instead I greet it with a brave face, lips in a forced smile, like an old friend. 
Says Death, "Why do you wish to defy me? I am Death and I choose when you are to join me." 
I speak through my teeth, staring unblinking into the dark pit of nothingness that should be its eyes.  "Are you trying to talk me out of joining you, such a vile creature?"  Death pulls back its hand and gives a malicious laugh. 
"If you truly wish to die," it hisses, "why, in the name of the God you put your faith in, did you not yet jump?"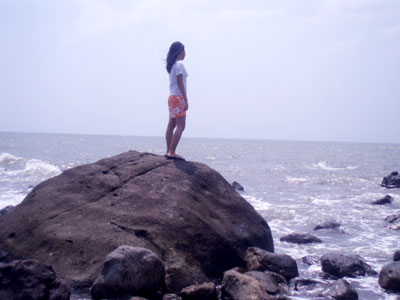 © Grace L., Bacolod City, Philippines