Disastrous Argument
November 30, 2012
It was a bright, shiny day. The sky was clear, with no sign of any clouds, birds chirping mindlessly overhead. Who would've thought such a great looking day would bring about such a tragedy.

Below this unnaturally beautiful sky, was a couple in a heated argument over some girl. "I can't believe you were with that girl again! On our anniversary, no less." The girl shouted. "She meant nothing to me, nothing!" the guy exclaimed desperately. Not wanting to back down, the girl retorted "How can she mean nothing when you forgot our anniversary because of her!" Frustrated the guy replied, "It wasn't like that," but the girl was no longer listening, "You know what? Fine! Suit yourself, I'm leaving." With that the guy stormed out of the room with a bang. Angrily the girl screamed, "Go away, you coward! I don't need you!" Upon her last breath, she broke down in sobs. It wasn't long until she heard a loud BANG! She hurriedly went outside to check what happened. She ran to the scene of the crime and nearly fainted when she saw the blood stained figure lying in the middle of the driveway. "No! No!" she cried rushing to his aid. He was barely conscious when he told her "I was getting you an engagement ring, all she did was help me." With that he pulled out a gorgeous 12 carat diamond ring with sapphire gems surrounding it. "Don't be like that; you're not going to die. Fight for yourself, fight for me please." She begged while her face stained in tears. "I love you" was the last thing he said before his boy convulsed, dead. She screamed so loud that people heard it from afar. As his body was covered by officers, she steadily rose. Feeling dizzy after what happened she collapsed on the cold concrete.

She blinked and found herself inside the house standing, as if she just had a vision or was merely thinking deeply. The guy shouted, "She meant nothing to me, nothing!" She looked in the direction of the voice and there he was, standing furious, desperate but alive. Not able to contain herself, she leaped into his arms and started kissing him like there was no tomorrow. "I believe you" she said breathlessly in between kisses. He pulled away and said confused "Woah, woah. What's all this? One minute you're mad at me, the next you're jumping around and kissing me." She looked into his eyes and said "I don't want to fight anymore, I love you. I love you, I love you." She kept repeating. "Well in that case," he got down on one knee pulled out a black velvet box, opened it and asked her, "Will you marry me?" And of course she said yes.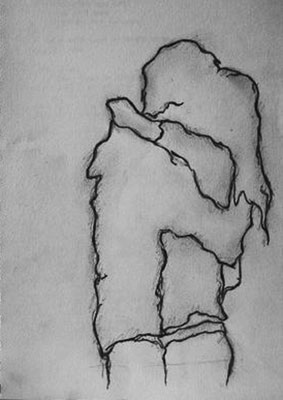 © Nicole B., Newcastle, WA