The Perfect Queen
May 26, 2013
Stiff she stood in front of the creature inside the mirror. And with a small voice full of tremble and madness in her eyes she hissed, "Who is it?" And before the mirror creature or anyone could respond she howled, "WHO IS IT? WHO IS THIS WOMAN WHO IS FAIRER THAN ME? HUH?!?" Her screech shook the whole castle, insects between creeks and mice from inside the walls scattered away for they did not want to be there for what followed next.
On the Queen's forehead you could trace the blood coursing veins pumping with rage. Two whirl pools of despair replaced the once emerald orbs. Hesitant panting and short breaths escaped her mouth. "TELL ME!" She demanded one last time.
"Snow Wh-" but before the mirror creature could answer it was cut off by a flying golden chalice, once used to swallow down intoxicants to hush up the croaked screams from the inside, shattering the silver mirror into tiny, single crystal pieces.
And her wrath was released into a delirious roar, the demon she had become let out excruciating pain stored for years. She took chairs, tables, hand-crafted plates, silver-wear, and brushes and slammed them and hammered them against the floor and the walls. The loony Queen scratched her face over and over again; with her claws she wrecked her body, slicing her very own flesh, until she was a bloody fountain. The batty Queen let herself fall to the ground, she crawled to the darkness of underneath her bedstead and laid there in between the shadows and basked in her insanity.
I'm perfect, I'm perfect, I'm perfect. Mommy said I'm perfect.
She soaked her body in a pool of exasperation. After years of following behind Mommy's tainted track, crimson lips, powdered face, milky skin, long silky hair, and man after man, conquest after conquest. Everything was supposed to be a peerless build up reality. Yet, everything was pound to the ground, wrinkled and squished into a whole.
The whimpering did not stop.
The internal bleeding did not stop.
The cracking of her soul did not stop.
Mommy, your little girl is flawless.
The incubus eating up the inside of the damaged porcelain doll did not stop.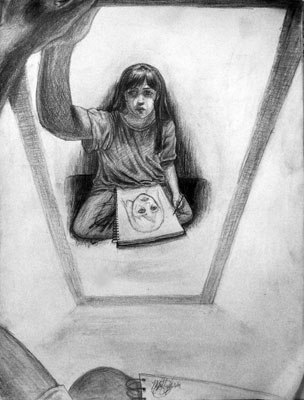 © Phyllis S., Far Hills, NJ