Bend (final story of the Shatter series)
February 8, 2014
Matt and I walk into school hand in hand, the second week back since I cut the infinite cross into the soft skin of my wrist. Both of my earbuds are in, and Stay by Mayday Parade is playing. My favorite verse starts to play, the slow vocals drifting and settling into my mind.

"If you believe that everything's alright / you won't be all alone tonight / and I'd be blessed by the light of your company / slowly lifting me to somewhere new." As it plays, I rub my arms in the cool fall air. Matt's sandy hair leads to the band room as he carries my guitar for me. The doctor says that my stitches could pull if I carry anything over 5 pounds.

Mr. T rushes over to me when I step in, looking both elated and worried. I haven't been to his class yet, even though this is my second week back. The doctor cleared me Saturday for his class, but I'm not allowed back in gym.

"Ella!" he says, embracing me tightly. His hands are warm, and I can feel the calluses on his fingers from his steel string. "How have you been?"

"Good." I say. Mr. T has grown a 5 o' clock shadow while I've been out, but it doesn't look bad on his face. My answer brings a warm smile to his face.

"Are you practicing today?" he asks, motioning for me to sit down. I sit, and he pulls a chair so he's sitting with his legs around the back. He looks comfortable, and I'm reminded how much of a father he has become to me.

"I might. But I'll definitely be in class." I say, smiling at my favorite teacher and replacement father. Along with Matt, he was there for me when Anthony passed, and when my dad left.

"Ella?" a soft voice says behind me, and I turn. There's Hannah, her electric blue eyes looking at my bandaged wrist. It's a clean bandage, so she can't see the scar. "What happened to your wrist?"

"I… Caught it on the edge of a table. It was metal, so it got cut really bad. I had to get stiches." I say, wanting to keep Hannah innocent. She shouldn't have to hear my problems or past.

"Oh." She says, walking away. I can hear her play as she goes, being careful to keep her eyes open. I notice she's come a long way since I saw her last.

"Is that really what happened?" Mr. T asks, and I can't lie to him. Carefully I unwrap my gauze, showing him the stitched- up infinite cross.

"No. But I'm better now." I flash him a smile once the stitches are covered, and Mr. T smiles back, relieved. I can see it in his hazel eyes.

"Good. I need my star guitar back." I smile again, knowing my nickname can't be truthful. I might be good, but I can't be his best.

Matt sits down next to me, facing Mr. T. He hands me a piece of music, notes and vocals covering the page. I look closer and see The Last Night by Skillet, one of Matt's favorite songs.

"I'm gonna go practice, Mr. T. See you later." I get up and walk to the back room, hand in hand with Matt. I notice Hannah smiling at us as she plays.

"Play for me?" he asks, pulling up a chair and handing me my guitar. I take it, my hand running over the smooth wood.

"Of course." I say, tuning my guitar. It hasn't been touched in three weeks, so it's insanely out of tune, but in a few minutes it's ready to play.

"You come to me with scars on your wrist / you tell me this will be the last night / feeling like this. / I just came to say goodbye / didn't want you to see me cry / I'm fine but I know it's a lie." Matt smiles, and I smile back in between verses.

"This is the last night you'll spend alone / look me in the eyes so I know you'll know / I'm everywhere you want me to be. / The last night you'll spend alone / I'll wrap my arms around you and I won't let go / I'm everything you need me to be." I sing, the notes coming out like they were made for me. I start to sing the rest of the song, the familiar notes and words coming out in chords and vocals.

"Your parents say everything is your fault / but they don't know you like I know you / they don't know you at all. / I'm so sick of when they say / it's just a phase, you'll be OK / you're fine / but I know it's a lie."

"This is the last night you'll spend alone / look me in the eyes so I know you'll know / I'm everywhere you want me to be. / The last night you'll spend alone / I'll wrap my arms around you and I won't let go / I'm everything you need me to be. / The last night away from me."

"The night is so long when everything's wrong / if you give me your hand, I will help you hold on / tonight, tonight."

"This is the last night you'll spend alone / look me in the eyes so I know you'll know / I'm everywhere you want me to be. / The last night you'll spend alone / I'll wrap my arms around you and I won't let go / I'm everything that you need me to be."

"I won't let you say goodbye / and I'll be your reason why / the last night away from me. / Away from me." I finish the song, and Matt gives me a round of applause, his hands moving through the air in a big circle.

"Woo! Ella!" he says, punching his fists in the air like he's at a football game. I laugh, meaning it. He laughs too, and helps me put the guitar away. As we stand, my wrist hits his, our arms entangled. I bite back a scream, and it shows on my face. "You OK?" he asks, his voice fading a bit underneath the rush of pain.

The world spins a bit as the pain subsides, and I lean on the piano for support. My visions blurs and swims for a moment, and my thoughts haze through the pain. Then, the world comes back into focus.

"I'm good. I think we hit my stiches." I try to laugh, but can't manage through the pain. We finish putting the guitar away, and I'm careful to not use my left hand. I put the music back in its folder, and Matt picks up the guitar.

I put in my music, hitting play as the last few notes of a Paramore song plays. Matt and I leave the room, and I flick the light off. As I reach my folder slot, January 28, 1986 by Owl City starts to play, followed by Galaxies.

"Call off the cap- com / tick off the time- bomb / let felicity fly." Adam Young sings, insane vocals in front of synth- pop beats floating into my ears. Matt comes up behind me, taking my hand. Together, we walk to class.

All through the day, Matt makes me laugh. I barely think of Anthony, even though The Last Night reminded me of our last night and Matt making me laugh makes me think of Anthony's old jokes. Later, Matt texts me until midnight, when I fall asleep.

When I wake up the next morning, there are no tears on my pillow.

3 weeks later


Stitches removed, I walk out of the hospital hand in hand with my mom. Dad left again last week, after finalizing their divorce. Mom even gave the ring back, and since then, she's started Alcoholics Anonymous. We've grown closer since Dad left last week, and I hope it lasts.

Buzz! <Done?> Matt asks as I step out of the car at my house. Mom still doesn't have a license after hers was revoked for too many DUIs, but I can drive.

<Stitches out. Can you come over?> Sent. Soon, the doorbell rings. Mom opens the door and Matt steps in, collapsing on the couch.

"Hi, Matt." Mom says, handing us each cans of Coke. Ever my favorite nerd, Matt flips the channel to a Doctor Who rerun. Mom rolls her eyes and heads downstairs, but I can see the smile that she tries to hide. After a while, I can hear Doogie Houser M.D. come on.

In such a long time, I feel normal. The other day I threw out my candle and scrubbed the faded Sharpie from my hand. Anthony wasn't alive, and even though I still loved him so much it hurt, he wasn't coming back.

On the screen, David Tennant steps into the TARDIS, followed by his companion. Matt has explained this whole show to me, but I still get confused sometimes. I take a sip of my soda, interested in the show.

I feel someone sitting on the other side of me, and I look over. Smiling, is Anthony. He's fading and flickering, like a hologram, but he's still there. He notices Matt, and his eyes darken.

"I love you, Ella." He says, becoming transparent. I nod, and Anthony is gone. All that's left is Matt, the couch, and I. Together and alive.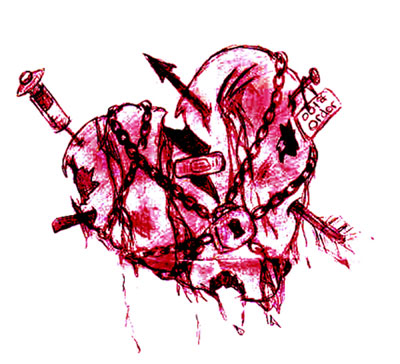 © Asia B., Hudson, MA