The Secrets of Shakespeare
February 12, 2014
Shakespeare didn't enjoy literature.


He would sit outside in the evenings, reclining with some brandy and, if he was in the mood, bread and jam. He would gaze at the sky, dreaming to be anything but a playwright. Sadly, being a playwright was his only means of earning a shilling.



When he wrote, he could not help but believe that every "to be or not to be," every plot twist, every philosophy, was all for naught. Yes, the plays were entertaining now for the penny seats in the globe, but later, it wouldn't matter anymore.

True, the plays were clever. But generally, they were only a cover for how much he truly wished he could be anyone but himself. William hid in the characters that he wrote. He created the people he wished he could be, devised the plots that he wished he could live out. He was surprised people enjoyed his fantasies, but he did not think of it as a talent. No, William thought of his ability as a way to channel his thoughts. His mind. His wants.

Frankly, it made him miserable to watch these thoughts play out on stage. He wasn't able to live out his dreams, so instead, he watched as others did.


One night, as Shakespeare gazed above at the stars, he decided he was done with writing. He was tired of dreaming of being Romeo but never actually finding his Juliet, trying to be Hamlet but continuously feeling like Feste, a continuous male version of Helena.

Mocked by the fairies of his imagination.

Abandoned by the people he loved.


He was tired of living in a realm where every fate was divided between a tragedy or a comedy, and instead wanted to live in a place resembling life. But life was lacking adventure. It was lacking enchantment, laughter, beauty, things that could simply not be in the real world. He wanted to live in a world that was worth living in, with things worth dying for. If things are worth dying for, tragedies aren't that tragic, are they?


So, Shakespeare, needing a place to hide in his world that he wished could be, picked up his quill and began writing.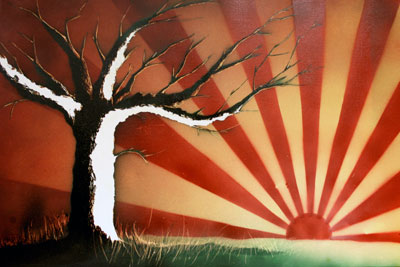 © Tomas C., Lakewood, CA