Running
March 10, 2015
Running fast, fast, fast, speeding towards the light at the end of a tunnel that only grows farther the closer I get as I fly towards the only hope I have left in the world. Thorns and hands and vines and trees reach out from the murky darkness to trip me to wrap around my legs and drag me down to the dirt and hold me down until I die as the light fades into the distance. Birds bearing the faces of those I hate swoop from the sky claws extended to grasp at my hair and face and arms to drag me off into a hell from which I can never escape.
Running fast, fast, fast, feet slipping on the sand and dirt and grass that gives way beneath my weight as I strain towards the end of the race. Trees and rocks tumble into the path and force me to divert my eyes from the destination that is my sole salvation. Dips and holes and abysses lay in wait ready to catch me, to make me fall, to hurt me so I will never be able to regain my footing.
Running fast, fast, fast. Falling into tiny puddles that become great seas that lengthen the journey I must take to reach the land where I will be safe. Paddling helplessly into the dark water struggling to stay afloat above the long submerged hopes I had once held. Unknown creatures swim and dive around me, stirring the liquid into a roiling froth burning my eyes and blinding me and choking me Water and blood rage around me, tugging me down into the fathomless depths, submerging me in a seething ocean of rage and pain and hurt and loss and depression.
Running fast, fast, fast. Reaching, straining for the end of the tunnel towards the place I know I will be safe. Jumping and leaping over obstacles in a vain attempt to make it to where everyone wants to be. Stumbling, tripping, falling and fearing that my legs cannot make it to the final stretch. My eyes grasp the end, my goal so close but slipping away from my hands as everything I feared drags me backwards towards the beginning where I fear to be where I will never escape.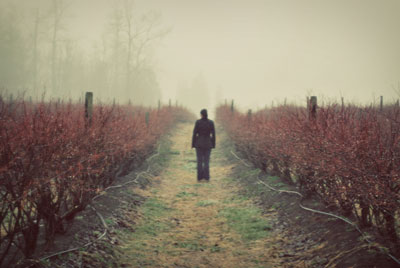 © Molly H., Lynden, WA