Cadillac
July 23, 2015
Cadillac
     My life began at an auto sales shop, because my dealership had no one to buy me so I sat in the back where I was hoping someone some day would buy me and use me till my wheels fall off and my engine stops running. Several months passed and I was still ownerless, the auto sales shop was very cold and boring it had no story to tell just like a blank canvas but one day when the sun was shining and the streets were feeling this west coast fever, a man came in and wanted to buy a car and asked if there were any in the back, the minute that man saw me, his eyes began to widen and he knew he found the one. As I grew to know my owner I slowly but surely realized that, that man who bought me was…Elvis Presley. Elvis named me Primrose because there was no other car like me; I was a 1960's luxury Cadillac that was made to make the rich look poor.
     Our first adventure was on Hollywood Boulevard, when we hit the street all we saw were the stunning glittering lights and becoming starry nights. When we arrived to the building no one was there until Elvis stopped my engine and then the crowd came rolling in. Elvis ran inside before he could get mauled by a bunch of fan-girls.
     After the show we drive the streets of town all the way to Memphis, Tennessee to soon go roll out on Main Street and play on the stage till the sun begins to show. Hollywood Blvd to Memphis was a long drive but when we arrived we saw tall buildings and the whole town full of trollies. Elvis took a heavenly whiff of the pristine air surrounding us and the southern soul music everywhere we went. As we passed some corners Elvis noticed that there were so many screaming women on each corner that when he got to the large building in which he was going to play in, that there were so many screaming fans trying to get in by cutting in line that the screaming women on the corners behind us were just the end of it. The King played such wonderful music that when he was gone inside and playing, I would jam out to songs just as if I was human.
     The French Quarter in New Orleans was our next stop, here Elvis felt less tense and felt like he could let lose of all the possible tension in the air. Speaking of air when we arrived the temperature was just perfect no humidity and a perfectly cloudy sky but that changed quickly as the sky lost any signs of clouds and the temperature rose and the humidity got the best of us. Here The King was a rockin' and a rollin' while the cameras were snapping every two seconds. The French Quarter was so wild that people drove the young king to do things he would never really do on any given day. We played from coast to coast, north and south, east and west when we were on tour
     Everything was perfectly fine until the tables changed and Elvis died, In the young King's will it stated that "Primrose must be given to my daughter Lisa Marie Presley if I ever die" and so was done. Lisa loved me just as much as Elvis did but it just was never the same, I slowly started to breakdown inside. I was attempted to be restored with color but Lisa had no way of getting my original paint job color because I am a vintage car, so was given a pistachio kind of color of green and it wore away quickly with my yellow bumper and my broken back window. No more screaming women. No more cameras flickering. No more tales to be told. Now I, Primrose, am melting to the ground to join the universe with my only King, as I withering away due to the elements of nature. My dreams came true with Elvis, we rode for years together, I was driven until my wheels fell off and my engine stopped running. As rust develops on the oddly colored wall paint on my metal I will be at rest with nothing to worry about unless I become useless trash, but my last hope is now that I am practically dead I cross my pipes that I will be used for something special like an organ donation but for cars it would satisfy me to feel like I just saved another car from dying on my watch. My only problem is that Lisa Marie could out of the blue decide that she does not want a car that is basically scrap metal in her backyard. Well, good bye Hollywood fame and stardom because Elvis, I want to be with you so, I Primrose, am saying good bye to the world, I hope you dont miss me but I cant take another minute with out my King, so goodbye, forever.
~Primrose 1960-1977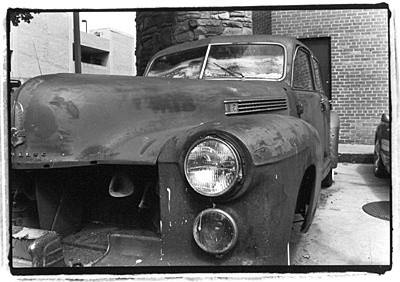 © Jessica T., Bethesda, MD