Discarded
MAG
May 12, 2016
The light touches the corners of the crevice where I am kept, and a hand reaches in. This place is dark and crowded, but every sliver of light gives me a sliver of hope that it will be my turn. But it is never me who is picked... Until now. Fingers touch me lightly before pulling me out. I shiver in delight as my lines see the light for the first time in a long time. The girl, to whom the hand belongs, sets me down gently, and I feel hard wood behind me. She smiles as she picks up a pen. I now begin to wonder: What will I have the honor of holding between my lines?
This thought makes me ecstatic with all the possibilities that lay ahead. What secrets will flow through this girl's mind, into her pen, and finally onto me? I can become anything. A story, song, documentary, or diary. It is all up to her. Ah, I sigh as I feel the tip of her pen press down gently. The ink seeps into my pores, where it will forever be. There is a pause, and the pen leaves me. No wait, come back! I cry. I wait nervously as the girl lifts the pen to her mouth. She taps it lightly and I watch her. Don't stop before you've even started, I urge as she makes a move to stand up. But, alas, she scoots forward instead. Then the girl slowly lowers her hand and lets the tip of the pen rest lightly on me, her brow furrows. She's thinking, I realize with delight. I wait in patient anticipation for her to begin.
She moves a fraction, then, all of the sudden, starts writing. Her pen glides across me flawlessly as she writes word after word. The scraping of the pen and the brush of her hand are music to my ears. I revel in their feel and sound as she continues to write. Quickly my lines become filled with this girl's thoughts, but then, almost too quickly, she is done. She picks me up, looking at her work, and I try to catch as much light as I can, in order to impress her. But, despite my efforts, her shoulders slump in disappointment. No! Stop! I exclaimed as she starts to crumple me.
But she keeps going, ignoring my plead, compressing me until I am no more than a wrinkled mess of what could have been. Then, she tosses me aside, reaching back into what was once my home to grab a new contestant. Setting this new paper on her desk she starts over. Leaving me forgotten, a mistake not to be dwelled upon...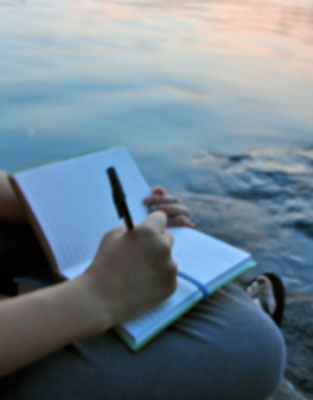 © Grace K., Port Washington, NY