Bandit's Blog
November 20, 2016
 I ran down the stairs, slamming into the front door and scrabbling forward into the front hallway. I jumped over a backpack and skidded to a stop, whipping my head around to see who was behind me. He was gone! My pursuer was off my trail yet again. I was so fast that I knew deep down he would never catch me.
I've only caught glimpses of my daily hunter. I only know a few things about him: He has black fur, he is long, and he goes by the name "Tail".
My name is One Who Runs with the Night, but the humans call me Bandit. I don't find the name very suiting, but I figured out a while back that about 75% of the time they say "Bandit" and I come, I get treats. So, I suppose it's worth it.
Now let me get this straight: I am a cat that lives with humans. That does not mean that they own me. In fact, I own them. Sure, they "adopted" me, but when they came to my birth-giver's house and took me to their home, I was the one that chose them.
I am not the only cat living here. There is another that presides in this abode. The owners call him Zorro, but he told me his name is Midnight Calling. He and I get along okay. He just swears at me whenever I walk by him and I get mad at him for that so I bite him back. I mean it's fair, wouldn't you do the same?
Now, more about the humans. For about ten moons straight, they leave their nest at low sun and come back late after high sun. And they're only all together when the sky is dark. Except every five days they all stay home for two days and then it's back to wherever they go the next day. I think they call it "school" and "work". The younger humans come home and have "homework" to do, and the older humans come home and sleep and then make dinner, but they sometimes seem even more tired than the young ones, so I'm thinking their "work" day is even more grueling than "school". It's all a bit confusing.
Anyways, I must go now because I hear one of the humans shaking a kibble container and calling my name. I think it's the girl. She always gives me the most food. Farewell, and next time we speak it will be about the goings-on at the human nest while they are out.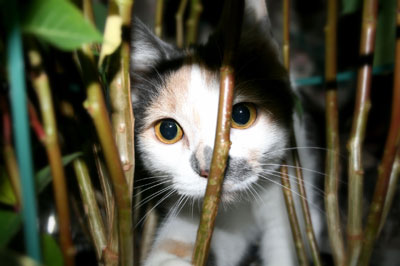 © Leah B., Kokomo, IN