A Totally Different World
April 10, 2009
What the heck is going on? she wondered. It wasn't as if she had had an interest in ending up HERE, of all places. She really had believed that she was on the road to China. Well, no matter, even if she was floating in this void and barely existing. She could take things from here. It wasn't as if time was going to pass at all while she was away, so nothing was going to matter.

The girl breathed a sigh of relief and glanced at her surroundings briefly, then shivered involuntarily. It was really creepy. The atmosphere felt like water, and she saw a fish float by. The very sight was sickening. By now, she had almost no recollection whatsoever to her past life except her name, her family, and her best friend. Sure, she knew her address, where she lived, junk like that. But now, details were denied to her, and she floated once more in the black-blue, seamless and yet endless emptiness.

Nothing. Her hand grasped around for anything, anything she could hold on to, just to remind her of some aspect of her past life. But her hand only brushed the water that didn't even feel like water… yet when she tried to swim up to the surface she grew more trapped, and with each time she flailed about, something tightened. Even if she had no idea what had hold on her, what had stopped her from her goals and dreams, what was keeping her captive in this prison, all she knew for sure was that something didn't feel right.

Never before had she wanted to be home so much. Home felt so far away, yet so near. She wondered how she could even breathe in this place. It felt effortless, it seemed of no difficulty to her mind, yet each breath made her labor profusely, and she closed her eyes and winced.

Why hadn't she asked advice of her friend? Why had she just been her head-strong self and barged ahead? Why…

There were too many questions swimming around in her head for her to make sense of any of them. She sighed again. Was this water? She opened her mouth, and a bubble came out. Her hair felt singed, but since when had she ever been scorched? She searched herself, her mind, her heart for any answers but found none.

Trapped. She knew it. She would stay here, captured and trapped, forever.

And of course, she knew, even if anyone found her, COULD find her, it wouldn't matter. For by then, she knew by the feeling in her gut that her strength was already draining. Fading. SHE was fading. No longer could she think for herself. Someone else with a mind of their own was controlling hers now.

Death would be better than this. For at least death gave comfort, and she would also know exactly what was going on, better than what was happening to her now. But NOW, she had NO earthly idea where she was, what she was doing, who, if not WHAT, was controlling her, nor did she have any idea how swiftly time was passing. And most of all, her prime heartbreak was that she had no idea what was going on with the people she loved the most.

She tried to scream, but no sound came out. Oh, if it were only all a dream. But in her dreams was this a dream. There was no humor in that statement for her- it held nothing except her wildest dreams, her wild being, and a shadow her former self.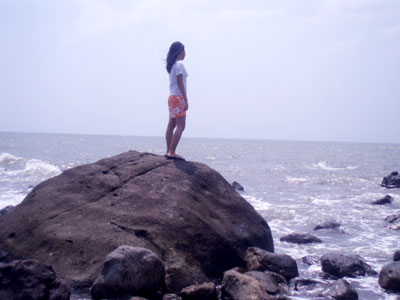 © Grace L., Bacolod City, Philippines