Tales of a demon cat...
April 18, 2018
NEWS UPDATE:
The criminal is still on the loose. The International Bureau Of Investigation (IBI) is still tells people to have all doors locked, and to hide in the most obscure place in their house, and have all weapons of any manner ready to use. The IBI and FBI say that this chaos and disorder will soon come to an end, but please don't panic, but if they fail, the world as we know it at this place and time will come to an end. So just a recap, the criminal is still loose, hide and have your guns ready, the chaos will end soon, if they fail, we all die. Ha- [static]

Oftentimes, the best way to settle the chaos caused by villans, is to capture the villain by whatever means possible, except by causing more chaos. Even more often, the villains greatest power is the fear of the civilians. The people will bend and sway, unless there are those strong enough to support them. That is, if the villain isn't a vile, murderous, ten thousand year-old demon cat.
FBI Facebook notice:
There is no need to fear anymore and hide in your houses. The criminal is now and inmate, in a maximum security international cell. There is NO chance he will get out before his sentence is up. We'll all be dead by then, so there is no need to worry.
-The Federal Bureau Of Investigation (FBI)

"Name." "Adalbert" "Gender." "Male." "Race." "Black, White, and Brown." "Eye color." "Green" "Height." "45 Centimeters." "Species." "Cat." "Origin." "Britain." "Family origin." "Germany." "Previous civil status." "Pet." "Current civil status." "Inmate."
"How long is he in for. I mean, in prison?" "100 Lifetimes, actually." "What does someone do to get that long of a prison sentence? What is he, a mass murderer." "Actually Williams, he is a mass murderer, and more." "Don't hold out on me Evans. What did he do?"
" Over the past thousands of murders, he has been convicted of murder, genocide, alchemy, witchcraft, illegal genetic science, possible Xenocide, attempted murder, child endangerment, fraud, arson, slave holding, trespass, forgery, treson, petty treason, cancer, waking up on the wrong side of the bed, espionage, riot, piracy, conspiracy, extermination, torture,  and too many others."
"Uhh." "Don't even try to reply to that." "Okay." "Go introduce the cat to the kennel." "Do I have to?" "No. We'll let the experts transport him to his maximum security cell, which you don't even have clearance to get to." "Who are the 'experts'?" "Demon hunters."
"Who!?!" "Demon hunters. They claim that the cat is a demon and only they can deal with it properly. It's the best option we had to capture this ancient cat." "Can I just go to bed, and pretend that none of this never happened?" "That's what we're all going to do Williams."

THE DEMON CAT WAS CAUGHT ON JULY 29TH, 2018. THE ORIGINS OF THE CAT ARE STILL UNKNOWN, BUT IT SEEMS TO HAVE SOMETHING TO DO WITH A CAT WAKING UP ON THE WRONG SIDE OF THE BED AND HAVING MUCH BAD LUCK.
                                  SITH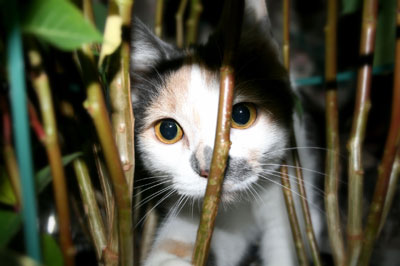 © Leah B., Kokomo, IN