The Lost Traveler (Interlude 3)
August 23, 2010
It was just another day. Well, just another day in the in-between; my own perfect world.

I was wondering about--just like I normally do. But nothing was normal in the in-between.

As I reached the meadow--the beautiful meadow with apple grass and chirping birds-- I spotted a rock. It was in the middle of the field. But I had never seen it before.

I strolled closer and I noticed a man. He was sitting on that peculiar rock and was clad in a dark pinstriped suit. Although, I could tell that he wasn't a businessman, he couldn't be one. I had never seen him before; not in-between, not ever in real life.

I grew closer to him, and noticed the clear blue of sky above me, dotted with white cumulus fluff, mutate rather rapidly into a gray silt horizon of strato-nimbus tinged with the silver of an oncoming rainstorm.

Nearing the tuft of grass beside him, I stopped and took in his gloomy features.

'I died, you know. Murdered. I was only fourteen,' I said with a slight smile on my face but my voice remained grim.

'So did I,' he replied sorrowfully, continuing to look at the scenery in front of him.

'How?' I asked, truly wondering how a man so young could have died. Although, she was one to wonder it.

'Trying to save the world. Aliens. I died in my lovers' arms, poisoned. He died with me, but he's immortal,' he paused for a moment, drawing in a deep, shuttered breath, '-he'll come back just like he always does.'

'That's awful,' I stated, truly feeling sympathy for this man.

'For me, or him?' he asked dryly, his voice still tinted with grief.

'Both,' I replied, briefly looking down at the grass, 'Must be awful to outlive so many friends, lovers, family. How could a man live a life so lonely?'

'He'll forget me, someday. Maybe not tomorrow, or next week, but someday. A thousand years time and he won't remember me, just a blip in time,' the man mourned as if he was reminiscing something.

'Hopefully he'll have something to remember you by,' I said.

'Just a picture, a moment captured in time forever,' the man sighed, his voice ringing out as he faded into nothing.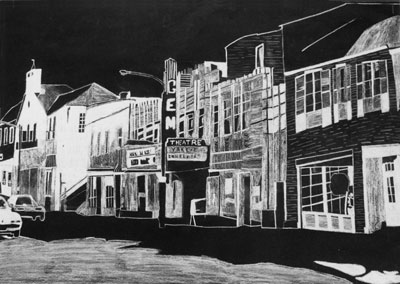 © Chelsea P., Kannapolis, NC