Hamlet: A Modern Day Adaptation - Part 1
September 16, 2010
I ran.


I ran.


To make it to...class?


Yes. To make it to class.


I sped down the hallway of pale green lockers in Elsinore middle school. No one in the hallways, I was panicked. If I was late one more time, I would get another detention. Another detention! And another detention would mean Mom would ground me from my brand new game console I had gotten the day before.


And so I ran.


No time for locker. I needed to get to class now. I flew down a bend wondering what the contractors were thinking when they chose this floor plan. This was an odd school. But I'll think about that later. For now, I'll get to class...


I bursted through the door. Mr. Penwicks was standing by the board, and everyone of my friends, including my girlfriend Ophelia, my sister Gertrude, and Horatio, my best friend, were staring up at me from their too-small desks.

"Hamlet. You're late." Mr. Penwicks' expression was indifferent. I've been late so many times he doesn't lecture me about it anymore. Quickly, I made up an excuse for being so late, hiding the real reason: I had been playing video games all morning.

"My locker was jammed..." He didn't believe me.

"That's your own fault. Don't forget the six P's: Prior Planning Prevents Piss Poor Performance. Take your seat, please."

I did so. I could tell he didn't like the fact that I'd brought my backpack to class, but I had to at the risk of being even more late than I already was. Nevertheless, I looked up at him, waiting for todays lesson.

Mr. Penwicks glared at me, then looked to the rest of the class.

"Alright, class, we have an assignment. Claudius," he looked dow at the brown haired boy below him, "As the student body president, I'd like you to present the assignment."


Like Mr. Penwicks said, Claudius is the student body president. He wasn't elected into office, though. A couple of months ago, my best friend, Fabrizio, was the president over the students. He was fine as our leader, he didn't do anything too bad, but he was a bit mischievous. He got kicked out of school when he set fire to the field out in the back of the school. His parents sent him to a boarding school in the next county, Lear Academy. I haven't heard anything from him since.

As for Claudius, he was moved up from student council representative to student body president. I guess he's fine, but I still miss having my best friend as student body president.


"Why certainly!" said Claudius as he strode to the front of the room. He said it in a teacher's pet kind of way. I didn't really like him. He's like a teacher in a student's body.

He beamed at the class. "This week, we'll be working on short scenes. Why? Theatre: It's a delicate art. An art that..." In my mind, his voice trailed off. My attention had shifted to the slip of paper Ophelia was slipping under my thumb. She touched my hand longer than she needed to.

I looked at the scratchings on the paper.


Locker really jammed?


I flipped out a pen. I scribbled back the truth.


Nope. I was playing my game rhombus. Come play after school.


I secretively handed it to Ophelia, who passed it back to Horatio. His eyes scanned the lines on the paper. When it came to him that I had purchased the greatest game console man has ever created, he almost jumped. He leaned forward and looked past Ophelia.

"Really? You got it?" he mouthed silently. I nodded.

"Hamlet, stop flirting with Horatio," said Mr. Penwicks. I hate it when teachers say that.

My gaze moved to Ophelia's hand, still gripping my finger. I looked up into her face, staring at me with a friendly grin. I tried to make conversation.

"So...my mom almost ran over a beaver this morning."

Apparently, a class wide discussion had sprung from the flirting comment Mr. Penwicks had made. Well, discussion isn't really the right word...Everyone was throwing out wisecracks.

Mr. Penwicks had lost it.

"Alright guys, LISTEN! You are in the house of knowledge, and I want you to learn as much as you can while in this year, so remember to..."

My attention left him momentarily. I looked at Horatio. He gave up trying to communicate with me, so I thought I'd just listen to what Mr. Penwicks had to say.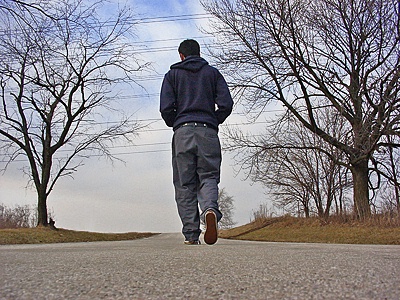 © Greg K, New Lenox, IL