Gets So Sad
January 3, 2011
Her feet crunched through the underbrush. Fine!, she thought her eyes brimming with tears. Let him go! He has work to do. She ran faster, crashing through the forest. She had offered him an opportunity, a chance. A chance to be together. Ilse hadn't seen him in the longest time. He had grown from his scrawny self. He was taller and...handsome. But there was something wrong. The glint of innocence was gone. He had denied her persistent offers. Moritz wouldn't do that. He had changed. She didn't know him. This Moritz had never played pirates with her. They had never built rafts or spent days hiding in her wigwam.

We can dig up those old tomahawks and play together more just like we used to Moritz.
I wish I could.
Then why don't you?
Eighty lines of Virgil, sixteen equations, a paper on the Hopsbroughs.

Her Moritz was gone.
"Ilse! Ilse!" She stopped. His strangled cries chilled her to the bone. Moritz was calling for her. Pleading for her return. Should she go back? Ilse was torn. Her heart was telling her yes but her mind was telling her no.
"Ilse!" No I won't, she thought , I am nothing to him. The pirate days are over. She began to walk away. A loud crack shattered the air. Ilse's stomach dropped.

"M-Moritz?" She turned quickly around and started running back. Honestly, I wish I could. His words ran over and over in her head. Did he...? She couldn't bear to think about. Ilse reached the clearing. Her heart broke at what she saw. Sad, sweet, little Moritz was lying in the grass. In his hand lay a gun.

"Moritz?" she whispered. He didn't stir. She kneeled in the grass. There was something dark and sticky pooled by his head. Ilse brushed it with her hand. Blood.

"Moritz?" Her heart was breaking at the sight of him. This couldn't be happening. The pain in her chest began to grow. Pain was familiar to her. She had too much pain in her life. Her father had taught her that much. But death. Death was something else. She felt like she was being ripped in half. She thought her heart would explode.

"Moritz!" He lay perfectly still. She looked at the gun. Ilse pried it from his hands. The metal was cold against her hand. What if...? No. She had to be strong. For herself. For Moritz. The gun fell with a thud.

"I could have saved him" she whispered "I-I could have saved him." The realization of it broke her. She collapsed beside him.

"I'm sorry, Moritz Stefiel."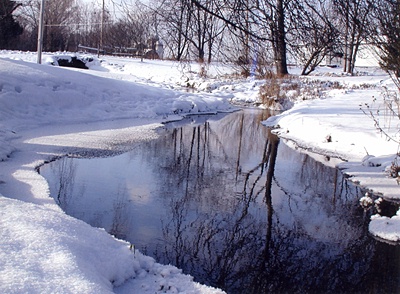 © Alex B., Rome, NY