Sticks and Stones
July 28, 2011
They're the only ones standing in the way of freedom. Your heart is thrumming like a bird in your chest, ready to leap out and fly away. You tell yourself you won't let them hold you back anymore. You need to get away, be independent, begin a new life away from here. The black shadows under your eyes and the hollow cheeks tell you so. Who are they to stop you achieving your dream? You got straight As and you can be anything you want to be, only your Mum and your Stepdad want you to slave at home looking after your little half brother and sisters. You can do this. You were already accepted by one of the top universities in Britain; so why are you stopping at that big red door that has been your prison guard for too long now, why are you even hesitating…?
But you know why. When your four-year old sister is snivelling on the sofa because you're the best Mum she's ever known, how do you walk away? When your one-year old brother is wailing like a siren, how do you turn your back, when you know nobody will bother to feed him? You promised your six-year old twin sisters a seventh birthday party on Saturday, because you know your Mum won't even remember to fob them off with a little toffee or a balloon. The stacks of people who rely on you are growing bigger, the little sad faces of your brother and sisters are etching clearing in the forefront of your tortured mind. Dreams cannot mix with reality, and you should never have tried to force them to exist together. Who cares if one broken girl's dream is smashing into a million little shards of glass if it keeps everyone happy? Suddenly the big red door is a wall of shame, and you're not going anywhere. You toss your rucksack to the floor because it's not needed. Not now. Not ever. So that's where you find yourself in the morning, dawn has burst through and you're crouched at the kitchen table avoiding the smug expressions on your Mum and Step-parent's face because you are the strong one. You are the survivor. You are bound by ropes, sticks and stones of obstacles lie in your path, and you just can't jump over them. The dream is over, but your daily life is moving on as usual. Why didn't the world slow down and lie in mourning? But you know why. Because no one cares. If you got knocked down by a truck you know your so-called family members would just be disappointed they'd lost their full-time, free nanny. Wreaths of flowers wouldn't spell out 'beloved daughter' or 'treasured sister'. Who knows if you'd even have any at all?
They have your heart in their hands, and everyday they create another hole. One day you know it will falter and you will fall. One day you know you'll do anything to escape. But not today. Not next month or next week. Not even next year. You know you'll wait until the oldest of your half-siblings is ready to take care of the rest, just like you've been doing, and one day they'll, too, find their rainbow wings and fly away.
But for now it's back to real life.
Back to delivering the kids to their day schools.
Back to avoiding the pity on the pre-school teachers' eyes.
Back to dreaming a different, parallel reality where the sun is shining in your world and at night the stars are twinkling down at you like beautiful, shining talismans. In that world everyone's troubles and problems doesn't rest on your tiny shoulders because there, it isn't you against the world or vice versa. There you can be who you want to be and everyone just accepts that. There is nothing blocking your path.
When normal people think of parallel universes they imagine paradise. When people like you think of parallel universes they imagine being a normal person with normal worries, and best of all, with normal, boring lives.
One day those magic stars will light up your dead eyes and they will shine with life.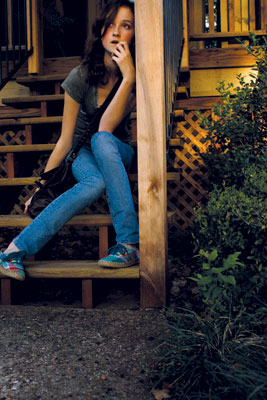 © Alissa H., Double Oak, TX