Live A Life Less Ordinary
February 12, 2014
Blood. Blood, and pain, and terror, and confusion. Everything around me whirls with unnatural colors and darkness and horror. Thick liquid drips down my face and over my lips, seeping into the cracks and filling my mouth with the bitter, metallic taste of pennies. Screams echo in my ears; I don't know they're mine until my throat aches and I sputter, blood scattering across the wall in front of me. I start to black out, my mind sinking into oblivion. Then red-hot fire sweeps across my vision and the screams start anew, bouncing of the walls and filling the small room with the sounds of pain and despair. My head snaps forward, my forehead bouncing off the wall, leaving new scrapes of crimson dragged on the concrete. I whimper, my eyes rolling back in my head. Burning liquid drips into my hair and down my back, leaving trails of agony as it falls towards the ground. A heavy weight hits my back from behind and I buckle underneath it, my spine crunching. More weight hits my side, my head, my arm. I hold back a blood-curdling scream, gasping for air. Some of my ribs are cracked, my hair is matted with blood, and I can feel my arm break beneath the weight. Every time I start to give up, start to collapse into darkness and accept that I'm to die, more alcohol is poured onto my wounds and fresh pain yanks me back into reality. I can't breathe, can't do anything but sit there and hurt and hurt and hurt and hurt. I can't even remember a time when there wasn't this much suffering, when blood didn't splatter my jeans and my thoughts were filled with anything but how much I wanted to just hurry up and die. A meaty hand grips my hair and jerks my head back; I squint at a stubbly face with blurry vision, my mind only barely functioning enough to process that there's anyone there. A silvery glint is held up to my neck, a deep, scratchy voice working its way into my ears and past the misery.
"Where is it?" He growled, the knife inching closer to the soft skin underneath my skin. I whimpered, twisting away as tears form in my eyes. "Where is it? Tell me or I swear to God I'll flay you alive!" He wrenches his wrist, the knife cutting a shallow line into my shoulder. I scream, struggling desperately against the ropes typing me to the chair. He laughs hollowly.
The door behind me slams open, the room filling with light from a world I hadn't seen since I was kidnapped four days earlier. My assailant straightens, the knife passing dangerously close to my cheekbone, and curses fiercely, whipping out a gun. He raises it but is too late; a bullet sails over my head and buries itself in his chest.
"I wouldn't be swearing to God if I were you," A cold voice, somehow familiar, says, and I hear a clatter as the gun that had been responsible for the man's death clatter to the ground. Footsteps cross the concrete ground quickly and warm hands fumble with the knots behind my back. "I'd be too busy praying to him." More footsteps, slower and more calculating than the first, come towards me. A dark blob appears to my right and walks in front of me, revealing a dark cloak and, as the man lowers himself to my hunched height, an angular face. In my dazed state, his alabaster skin appears surrounded by a halo of light, bright against his dark hair and the fuzzy background of blood and gore. I blink slowly and feel my bonds fall from my hands, releasing my arms from the position they'd been locked in for so long. I pitch forward into the man's arms, shadows licking at the edges of my vision. "Oh! Er- hello." Warm arms hesitantly wrap themselves around me. The last thing I feel is his hot breath on my cheek, then I sink into unconsciousness.
oOo
A hand shakes me awake, gently pulling me back into reality. Convinced I'm still stuck in the room being tortured, I wake swinging, my fist connecting with a jaw. Someone cries out and I hear a thump as they're knocked to the ground. I hurriedly throw the covers off of my legs and am halfway to the door before a hard body slams into me. I struggle, and someone chuckles. I recognize the voice and freeze, my elbow halfway to their side, poised for a swift smash in the ribs. As my muscles relax, so does his grip on me, until I'm standing on my own once more.
I tug on a lock of my hair, embarrassed. "Sorry, I-" I keep my back to him, my head turned away. I stare at my scuffed red converse, noticing with repulsion that there's a spot of blood despite the fact that they were tucked under the chair the entire time I was trapped. He still doesn't talk; I can feel his eyes burning a hole in my back. Finally I turn, slowly raising my eyes to his eyes. They're a startling shade of blue: dark around the edges and a bright, icy blue inside, marred by a green-brown spot on each pupil. They seem to peer right into my soul, sorting through and absorbing every little detail they find there. I have to look away, looking back to the ground instead of at him.
"It's all right, I'm quite used to getting hit in the face by women. Seems to happen to me a lot, I'm afraid." I glance back at him, my eyes wide. He cracks a fleeting half-smile. "Right, well, they're all waiting for you outside, so if you'd like we'll just hop off, and- What's that face for?" I startle; I hadn't realized I'd been making a face. I struggle to make my face impassive, but my emotions are so overwhelming that I simply have to turn my body away from him. I can still feel his eyes on me, but he has the decency to let it go. Instead, he opens the door and holds it for me, raising an eyebrow. I lock my eyes on my feet and shuffle out of the bedroom, into a living room covered in a strangely patterned wallpaper. A bluish streak pulls my eyes to the corner of the room; turning my head, I see a white and black skull painted onto a blue canvas. The empty sockets of the skull hold my gaze, my pulse picking up. I try several times to tear myself away, but only manage to do so when the man opens another door, leading into a dark staircase. I'm hesitant to envelop myself in the dark, but I 'm also reluctant to show my fear to the man and only pause for a moment before making my way to the bottom. Another door is in my direct line of sight, standing loud and white and mysterious. Footsteps pound down the stairs, then a pale hand reaches around my immobile form and twist the doorknob.
Harsh light streams into the dark, blinding me. When my eyes finally adjust, a crowd of unfamiliar faces jars me. Their smiles are friendly, but as I watch they morph into something else, something sinister. I whimper, taking a step backwards, and my back sinks into something soft. I spin around, and the singular face of my rescuer has been replaced by the empty face of the skull painting. I scream, and his arms jerks, slamming the door. I hear a slam, echoing steps, then a hand grabs my elbow and wrenches me away from him, into another warm body. Not wanted to see anything else, I squeeze my eyes shut and let myself fall into someone's arms.
I wake up on a couch, facing the pale man with dark hair. Standing beside him is a shorter man with blonde hair, holding a cup and saucer. I sit up, and he offers it to me. The pale man starts to say something, but the other elbows him in the side, shaking his head. I take small sips of the tea, letting the steam roll onto my cheeks and into my hair. They watch me, eyes unwavering, until I sigh and lower the cup.
"Do I know you? Because, honestly, I have no idea." My voice seems to startle them out of their respective thoughts, and the second man looks down, embarrassed. For once, I feel strong enough to look the first in the eyes, no longer afraid of his piercing eyes after seeing his face distorted into the gaunt features of the skull. He stares back at me, his lips pursed.
"Amnesia." He says, his voice resonating in the smallish room. I blink.
"Sorry?"
"Amnesia." He sighs. "A deficit in memory caused by brain damage, disease, or psychological trauma. In your case, probably both the former and the latter." My hand gropes unconsciously at my head. Blood doesn't mat my hair anymore, but I can still feel the unnatural stickiness, even if it's just my imagination. "You might regain your memories, but I honestly doubt it."
The second man groans and rolls his eyes. Our eyes leave each other and flick to him. "In other words, he's Sherlock." He glares at the first man, who shrugs. "I'm John Watson, and this is Sherlock Holmes."
"He's the blogger." Sherlock earns himself another glare, which he ignores. "And I'm the consulting detective."
"Consulting detective?" My voice is incredulous, while on the inside my insides are in turmoil. If I'd known them before, they wouldn't be introducing themselves like they are. So if I didn't know them… what am I doing in their house? "I don't think-"
"He made it up." John says, sitting hesitantly on the couch beside me. I scoot over, not realizing I'd done it until it'd been done. Habit, or a precaution? I can't say for sure. "Nothing that already existed suited him, so he simply created a career for himself. Typical Sherlock, you'll get used to it."
"The good thing about making up your own job," Sherlock waves his hand. "Is that you're never out of work. How can you be, when you're the only one there is?" I stare at him, wide-eyed. "But, enough. Twyla, I need to ask you a few questions."
Something inside me clicks, and it takes me a few moments to realize what it was. My name. Before, I hadn't even figured out that I'd forgotten it, simply going along with whatever. The little snippet of my past leaves me aching for more, wanting to know more, more about me, more about who I was before. Before. Before what? Before the pain? Before is something mysterious; before is something I can't remember. Will I ever?
Sherlock's deep voice yanks me out of my reverie, and I stare at him blankly. He starts to repeat himself, but I interrupt. "Wait… please… what's my name? Where am I from? Who am I? Who the hell am I?" I take a halting, gasping breath, then start to cry. John wraps an arm around me and pulls me into his side, awkwardly patting my hair. I curl and uncurl my fist, shuddering.
I calm enough to look up from John's side and am met with Sherlock's icy blue eyes, staring into my own. He nods once, tersely.
"Shock," He says. "Only to be expected."
I grit my teeth and lean towards him, extending my arm. My palm connects with his cheek and he falls backwards.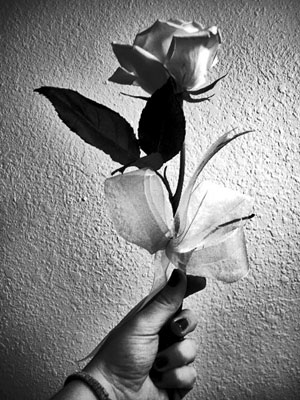 © Lauren R., Edmond, OK