Do Not Forgive Me Father, For I Have Not Sinned
November 25, 2009
I wish not for death to be bestowed upon me, but I know the Lord will wait with much charity, that he will denounce my innocence to this earth, and they shall conclude their actions to be much of a mistake. Forever have I known my Lord, and always shall I pray, for tonight shall be the night I am expected, and I will not dote before my town, I will not fret on this very day in the year of 1674, I will be infamous in the eyes of God. He shall wrap his heavenly arms about me on this glistering night, and I will be saved from the gallows that shall be my death.

My thoughts are such as they hale me toward the gibbet, through the streets of Northampton, my neighbors looking on with a ferocious gleam, the scrutiny unbearable. I feel their sinful lust, so corrupt in the eyes of my Lord, but I trudge forward, His hand upon my shoulder, and in this moment I know that I am their malefactor, a criminal, diminished in the eyes of my abode. With the cobblestones wearing thin beneath my feet, I am placed upon my pedestal, a cord strapped around my neck, struggling heartlessly, for I cannot avoid it, but that's not to say I'm not to speak. I shout, curse them for what they have done to me, making my life the devil's inferno, burning with an unwavering vigor. They all gather before me, like a flock of the farmer's sheep, their own spats of aspersion overpowering mine. I still voice my damnation; that on this earth their guilt shall not waver, that they shall suffer as I have, and their own wickedness will overcome them, consume them to the nethermost place, to the devil's doorstep. They bind my hands with lace, so restricting my blood ceases to flow, and even then I curse them, they have brought themselves closer to the ports of hell, the pit in which they are all so fearful.

As I utter my last breath I am aware that they shall not cease their heavy pursuit, and they, the whole lot of them, the accusers, those nasty little girls, the judges, even those who stand near and simply watch, they are all under the sinful orbs of the Lord. Never shall they perceive the gates of heaven, nor will they come in contact with our savior, though I should hope I should receive the chance. Eventually my blood will cease to seethe as I stand beside my Father, but for now it will simply dwindle, the noose tightening around my neck, the choir of the crowd dimming until there's nothing but my own beating heart, and then all fails to exist. I trust that they shall receive their deliverance, and that their optics will open to the truth of the innocence of myself and the other supposed guilty parties. For now, I assume that my Lord is waiting yonder, for I, Grace Foster, am innocent of such a crime as witchcraft, and I hope that the devil is awaiting the scornful to arrive, his bottomless abyss showing no mercy.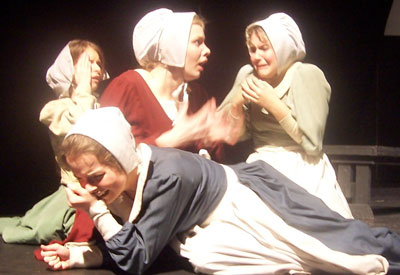 © Ashley O., Pearland, TX