His Mistress
June 21, 2011
It was becoming routine. Every night, I would lay awake for hours, silently listening to the train passing by, mournfully calling my name with every chug, and mocking my fear of leaving the safety of my quarters. I felt the adrenaline building, my muscles becoming tense as my heart beats steadily in harmony with the clatter of the train. My home was not here, locked behind a facade, a character made to protect my master's name. This silk dress I wear, the corset biding my heart from jumping from my chest, does not belong to me, but to his wife, who gave it to me out of pity. He has a wife. And I am his mistress.
I wear my shoes to bed every night, laced tightly, in the event I muster up enough courage to escape through the small window beside my cot. Below it, hidden behind the tattered curtain, was my suitcase, the one my father gave to me before I left for my new home, where I would assist the lady of the house. Yet I wonder if my sole purpose for being here is something entirely different. As if it is to please my master.
I wish to run to the train, its howl chanting my name. There I know I would be safe from my master's sordid touch, but be in danger of receiving his bitter wrath. For a second, I close my eyes, where in the darkness behind my eyelids I see his filthy hands gripping my bare skin, his sticky breath clinging to my neck, my hair tangled between his fingers. Perhaps this is why I cannot sleep, when I am awoken by living nightmares.
I hear his familiar heavy footsteps approaching as my pulse begins to speed. I know his reason for coming, and no matter how convincing I try to be, or how I deeply I pretend to sleep, he slyly slips in beside me and from his fetid mouth whispers for me to be silent. And I always am, in fear he would do something much, much worse.
The floorboards outside my door creak as if someone were stepping upon them. I bite my lip to keep myself from screaming as I see the brass doorknob turn ever so slowly. The train's sorrowful wail cries for me one last time as it rolls farther and farther away, deeper and deeper into the woods. A single tear falls down my cheek as the door makes its way open with a groan, revealing my master's dark shadow lingering in the doorway. My body shakes from terror.
I tell myself again, as if to keep my sanity, that the rain will roll by tomorrow night once again.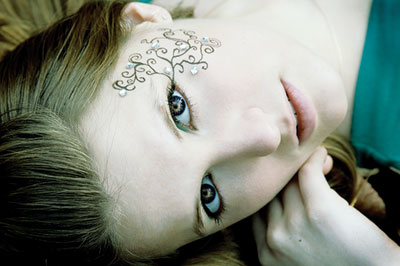 © Michelle B., Blairsville, GA